This month marks the 10th anniversary of OTL's infamous CAR STORIES show getting ejected from the St-Ambroise Montreal Fringe Festival, and already the media are taking note of this disturbing milestone. The story is one of the most recounted in Montreal's anglophone theatre community – it is the story of unethical corporate interests steamrolling artists at what used to be their own event, the Fringe. It is a well-documented story about corporations trying to exploit artists – and those artists fighting back using a strategy of cultural resistance and infringement.
To mark the 10th anniversary of CAR STORIES' ejection from the so-called "Fringe" festival, the OTL has decided to try and collect the ticket sales it was defrauded of over 10 years ago. It appears as though Jeremy Hechtman, the man responsible for transforming the Fringe from a grassroots community event into a corporate feeding trough, is finally stepping down this year. Filling those capitalist shoes is Amy Blackmore, a long-time Fringe afficianado and talented artist. The question on the minds of many artists in the community is whether she intends to continue with the corporate program that has essentially destroyed what was once one of the city's most poular grassroots festivals, or if she has enough courage and vision to restore the festival to a semblance of its former self. OTL decided to ask her, and sent the following letter:
———–
Dear Ms. Blackmore,
Congratulations once again on taking over responsibility for the Montreal Fringe Festival from Jeremy Hechtman. As the only artists ever kicked out of any Fringe Festival (by Hechtman in 2001), we feel that we are in a unique position to offer constructive criticism directed at improving the Fringe Festival, and indeed encouraging it to return to its original grassroots approach. We are keeping a close eye on developments, and are extremely hopeful that you will do a better job respecting the rights of artists and the local theatre community for the duration of your mandate.
Unfortunately, your new post does not come without baggage. As you may recall, 10 years ago our show (Car Stories)  was ejected from the Fringe festival, according to Jeremy Hechtman because we offended then-sponsor The Gazette by writing a satirical critique of their theatre critic Pat Donnelly, who cancelled all Fringe festival reportage until we were given the boot. Hechtman also stated that The Gazette had threatened to withdraw $15,000 in sponsorship money, making it very clear that The Gazette was in a conflict-of-interest as both corporate sponsor and media responsible for covering the event. It became very clear in 2001 that the artists at the Fringe now played second fiddle to corporate sponsors, effectively negating the concept of the original festival (which was activist in nature).
Furthermore, Jeremy Hechtman refused to pay us the ticket sales Car Stories earned for the week run before it was ejected ($822.00) or the projected sales from the sold-out run (around $1000), nor did he reimburse our "application fee" of $253.06 which was required simply to appear in the Fringe schedule (we brought our own venue). Ten years later, with accrued interest, we figure the Fringe Festival you are inheriting still owes the artists it defrauded in 2001 close to $5000.00. We have the documentation to prove our claim, which we can put online if you like to ensure there is no confusion as to what actually happened.
I am asking you firstly, as the new Fringe Festival director, to reimburse us fully for the amount owed. Secondly, I know our artists are still waiting for an apology regarding their shabby treatment at the hands of the Fringe in 2001. Lastly, if you meet these conditions, we at the infringement festival would be happy to consider forming a new relationship with the Fringe, this time based on mutual respect and potential collaboration for dealing responsibly with artistic issues in the community.
Please understand that for authentic fringe artists like us, 10 years is a long time to wait for what is owed. As such, if I do not hear back from you by June 18, I will have no choice but to send theatrical "Collection Agents" to the Fringe festival to try and collect our ticket sales money. On June 19, 10 years ago, Jeremy Hechtman told us we were being kicked out of the Fringe. It is a day artists will never forget, and, failing the immediate reimbursement of our money, it is the day we plan to raise a theatrical ruckus at the Fringe beer tent to remind everyone about the corruption still affecting the current Fringe.
I truly hope you will do the right thing and get in touch immediately to work out a payment plan, or at least to try and explain your own position. We are flexible, and can avert the (very public) theatrical protests/media campaign if you demonstrate a serious commitment to resolving this issue in a timely manner. I can be reached at 514-842-1467 or via email. I hope to hear from you soon!
Sincerely,
Donovan King
——-
It should be noted that Ms. Blackmore did respond promptly and in a  courteous manner, but she did not deal with any of the issues or arrange a plan to rectify the situation. Speculation is rife that as the "co-producer" with Hechtman (for this year only), she does not actually wield any poltical clout (yet).
The OTL has responded, as promised, with a theatrical campaign to collect the ticket sales and spur social justice.
COLLECTION AGENCY is a piece of Do-It-Yourself theatre whereby those wishing to participate create and assume a theatrical "Collection Agent" character, and proceed to investigate 3 dramatic people or companies to collect what is owed. Using primary documents within a theatrical matrix that includes both the Fringe and the infringement festival, the first participant to collect from all three people or companies wins a $500.00 prize (or 10% commission on what the fringe owes OTL). To participate, find someone at the Fringe beer tent distributing the instructions and documentation, or download them. The Documents:
Collection Agency P2 (Collection #1)
Collection Agency P3 (Collection #2)
Collection Agency P4 (Collection #3)
Collection Agency P5 (Media article about Car Stories, 2001)
Collection Agency P6 (the letter that got OTL kicked out of the Fringe)
Collection Agency P7 (letter from Levack, resigning from OTL and begging media to restore coverage. Note it is CCed to Jeremy Hechtman)
Collection Agency P8 (media article from The Gazette about show's expulsion)
Collection Agency P9 (letter to Fringe from Car Stories artists for box office sales and compensation)
Collection Agency P10 (letter from Hechtman refusing, note he claims he received "no documentation whatsoever" about Levack's resignation from OTL – he was CCed the resignation in document #7.
Collection Agency P11 (media report from Ottawa Citizen about the scandal)
The first "Collection Agent" to collect all three should email optatif@gmail.com to verify and collect the $500.00 prize!
With a bit of theatrical pressure it is entirely possible Ms. Blackmore will do the right thing and ensure the artists get their ticket sales from the Fringe festival – 10 years late is better than never!
AFTERWORD
OTL visited the Beer Tent the evening of June 20 to ask Ms. Blackmore in person if she had any intention of reimbusring the artists who had been defrauded by the Fringe festival. Ms. Blackmore offered "no comment" and referred us to someone named Mr. Agombar, who is apparently the Fringe's PR hack (yes, the Fringe Festival actually has paid people on staff for things like damage control!) Mr. Agombar was adamant that they were not to be refunded and even referred to the infringement movement as "10 years of bullshit".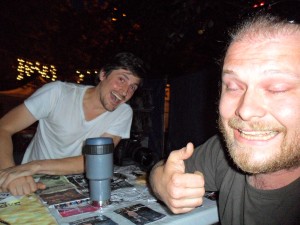 Fringe Festival spokesmen Brand (left) & Agombar (right)
Not to be outdone, Fringe Festival Board of Directors member Mr. Brand, himself directly implicated in the scandal in 2001, also dismissed the idea that artists should be paid their ticket sales.
And thus the St. Ambroise Montreal Fringe Festival has squandered a rare opportunity to make amends.