* Due to technical difficulties, the English version of the blog can be found here temporarily.
UPDATE: It is now restored on the Haunted Montreal Blog.
Welcome to the sixtieth installment of the Haunted Montreal Blog!
With over 350 documented ghost stories, Montreal is easily the most haunted city in Canada, if not all of North America. Haunted Montreal dedicates itself to researching these paranormal tales, and the Haunted Montreal Blog unveils a newly researched Montreal ghost story on the 13th of every month! This service is free and you can sign up to our mailing list (top, right-hand corner for desktops and at the bottom for mobile devices) if you wish to receive it every month on the 13th!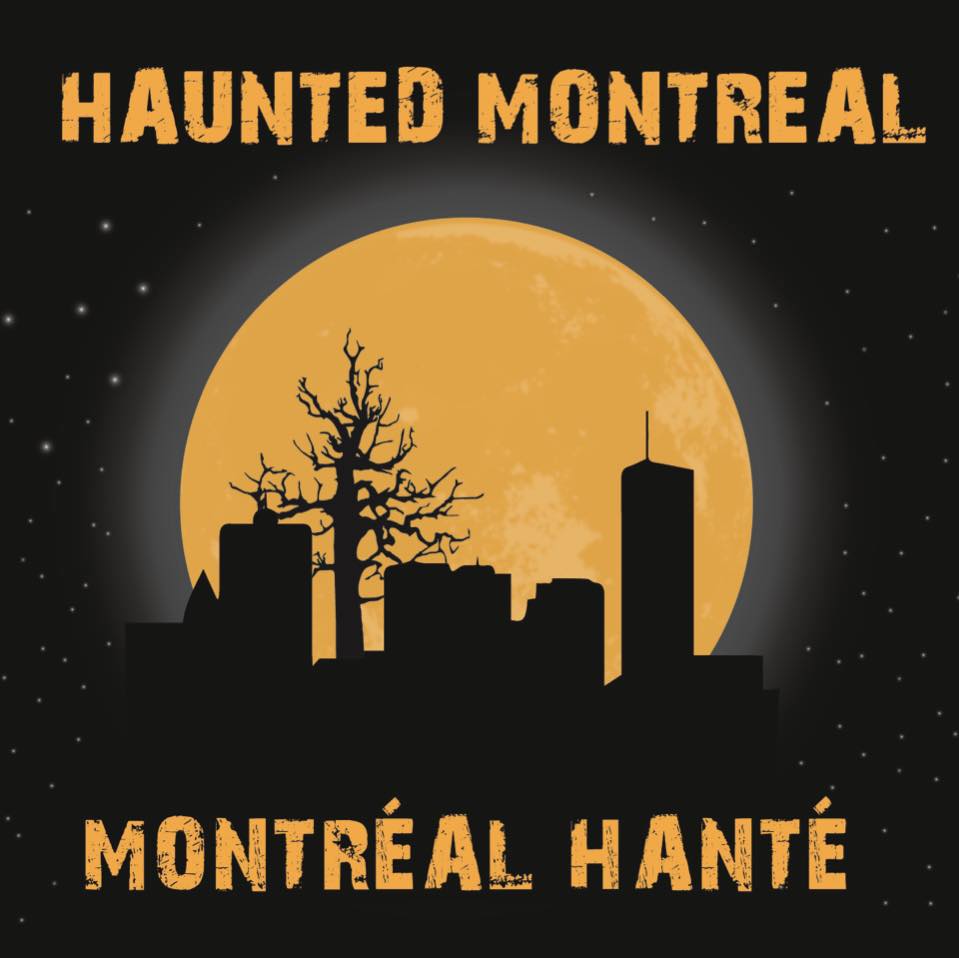 This month we examine Place Jacques Cartier, an idyllic location for tourists to have a meal, enjoy some live busking or have a caricature drawn. However, this public place has a very dark history whereby Jesuit priests and their henchmen tortured and executed Indigenous people from the Haudenosaunee Confederacy when it was known as Place des Jésuites – during the colonial New France era.
Haunted Research
Surrounded by colonial monuments and often teeming with tourists, today's Place Jacques Cartier has a very dark history. Allegedly, the public square is haunted.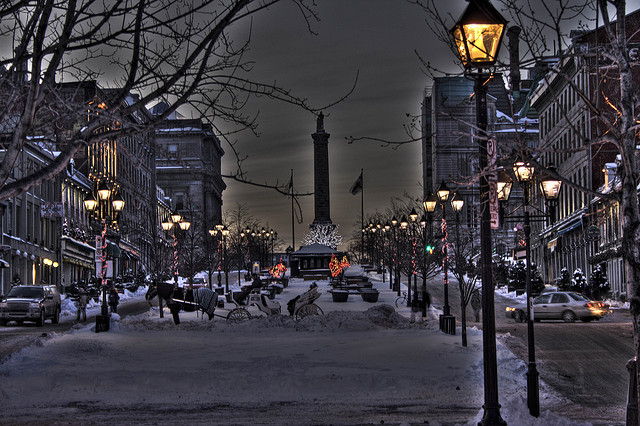 In 2016, an American tourist had a frightening encounter with the ghost who is said to haunt the square. He was returning to his hotel in Old Montreal after spending a few hours in Le Village having dinner and drinks when he decided to pass through the historic Place Jacques Cartier.
At around 1 a.m. he stopped at Nelson's Column at the top of the square to study the stone engravings of warships at the base of the monument.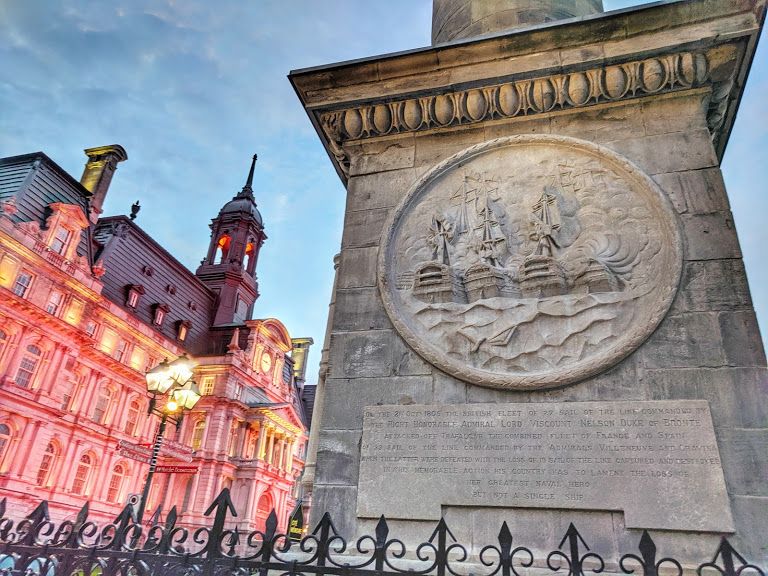 As he was peering at the maritime images, he suddenly heard what sounded like mumbling in Latin, a language he had studied briefly in high school in New York State.
Trying to determine where the strange sound was coming from, he circled the pillar, keeping his back to it, to look for the source of the Latin murmuring.
As he peered around the area, suddenly he noticed something bright, as in red hot, coming from the Place Vauquelin to the north.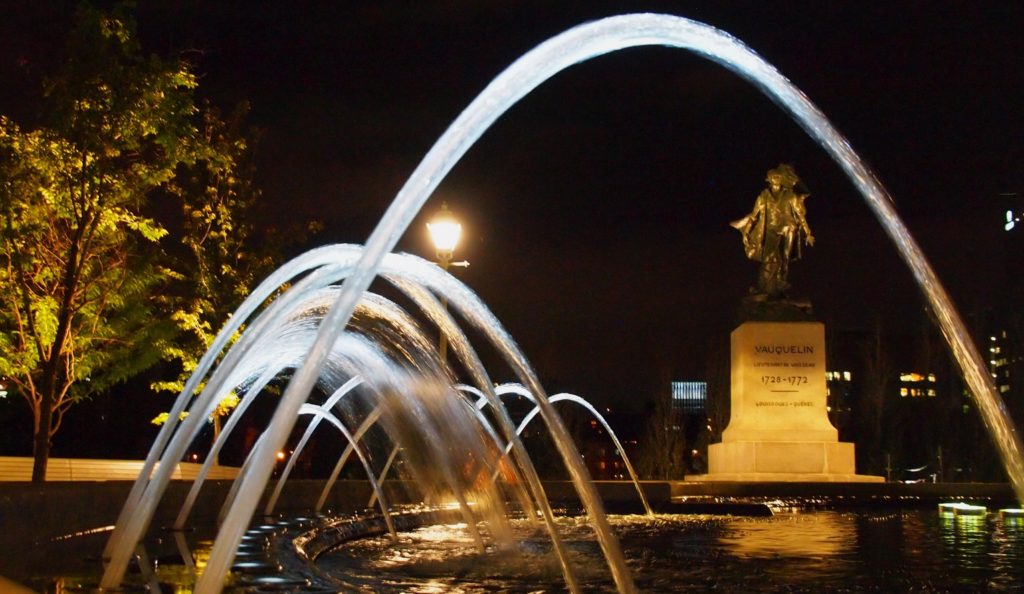 As he looked closer, it appeared as though a shadowy, translucent figure holding something red hot in his hand was approaching him.
Shocked and terrified, as the apparition got closer, he could see it was clad in a black robe and holding what appeared to be a large crucifix that appeared as though it had just come out of an iron forge. It was glowing, as though red hot.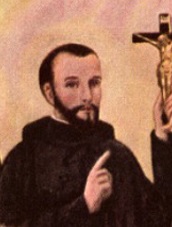 As the strange ghost approached the man, it lifted the burning hot crucifix. The tourist decided to run back to his hotel. However, his legs would no move as he was paralyzed with fear.
The ghost picked up its pace and seemed to be coming directly towards the man in an aggressive manner. Frozen, he tried to scream out for help, but nothing came out. He stared in horror as the ghost approached him and held up the red hot crucifix. The tourist realized that this was the apparition of a priest.
When the ghost was a mere few feet away, he could see a deranged grin on his face. The apparition stared at him and within seconds lunged at him with the red hot crucifix.
The man finally was able to let out a blood-curdling scream!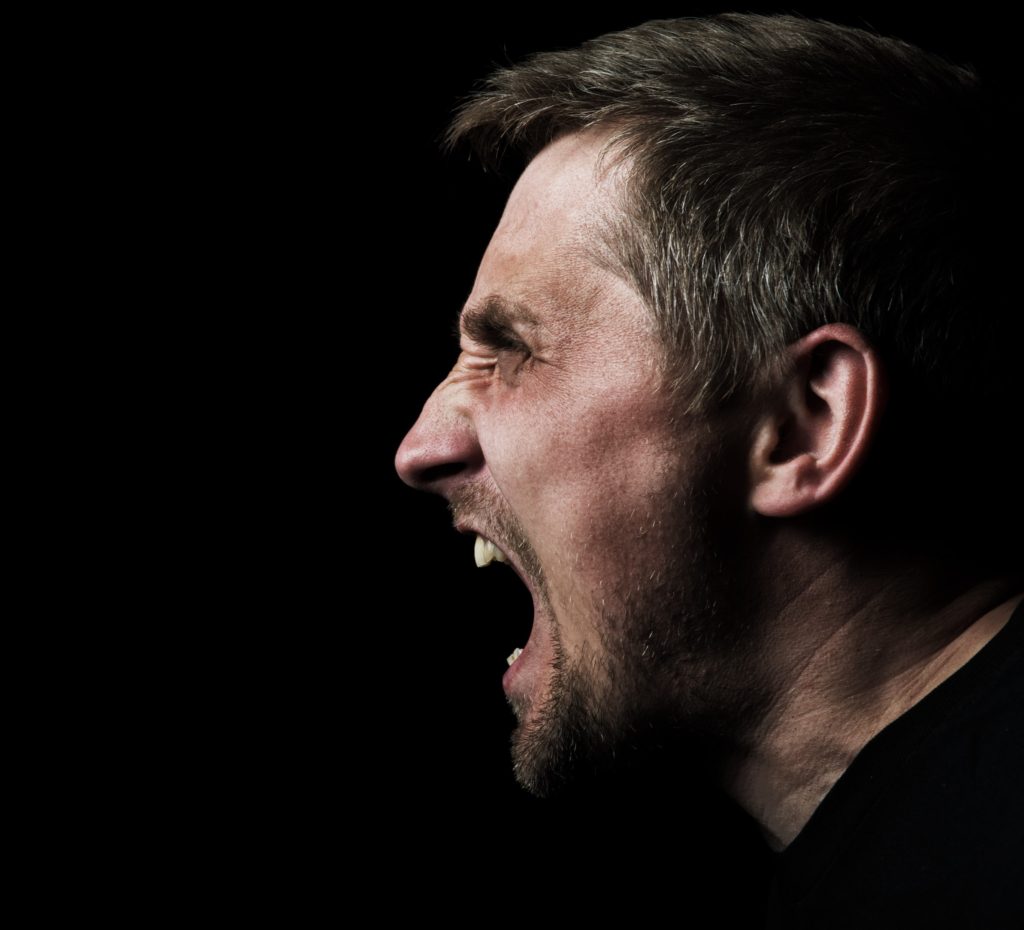 As he cried out, a woman who was crossing the square asked him if he was okay.
Drenched in sweat, with his heart pounding, the tourist was startled, as though he had awoken from a nightmare. The ghostly priest was no longer there.
He rushed back to his hotel, immediately checked out and then drove back to New York State that very night.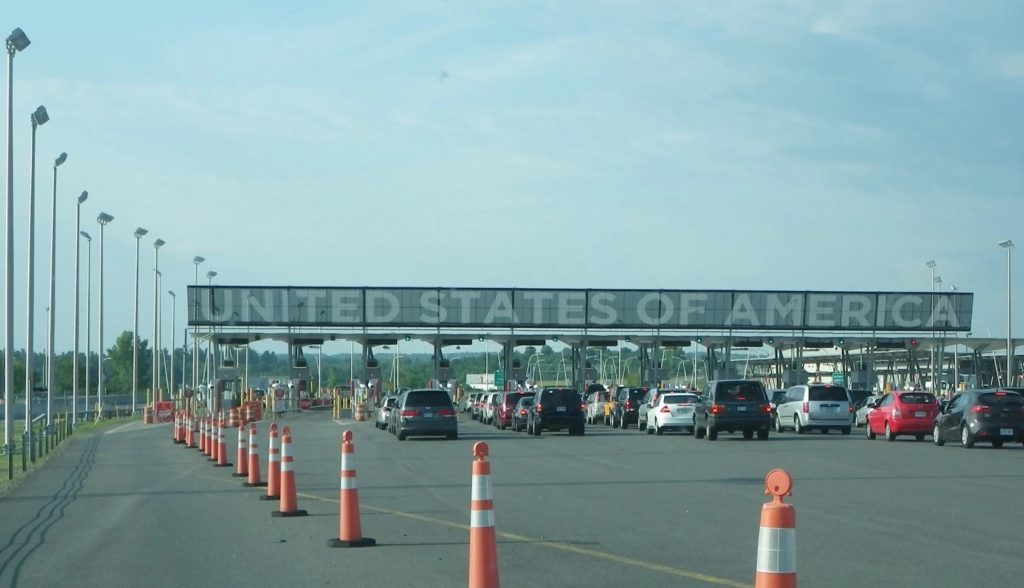 Place Jacques Cartier has a very dark history, which may explain the haunting. Once called Place des Jésuites during the colonial New France era, it was in this square that Indigenous people were tortured and executed by Jesuit priests and their henchmen.
Historically, present-day Montreal was a major Mohawk trade center dating back thousands of years in the northern Kanien'kehá꞉ka territory of Tiohtià:ke.
When the French began to colonize Indigenous territory in the 1600s, they mostly consisted of Latin Rite Roman Catholics, including a number of Jesuits dedicated to converting the indigenous population. Indeed, seventeenth-century Europeans were obsessed with converting the world's so-called "savages" to their own religious beliefs. In France, the publication of the Jesuit Relations sparked an apostolic zeal.
Tiohtià:ke was on their radar as a very strategic location given that it was fed by various rivers and also surrounded by rapids. However, it was also part of the powerful Haudenosaunee Confederacy, a grouping of five First Nations at the time including, from east to west, the Mohawks, Oneidas, Onondagas, Cayugas and finally the Senecas at the western end.
Labelled as "Les Iroquois" by the French, war broke out between the colonizers and the Haudenosaunee Confederacy when colonizer Samuel de Champlain attacked them in 1609.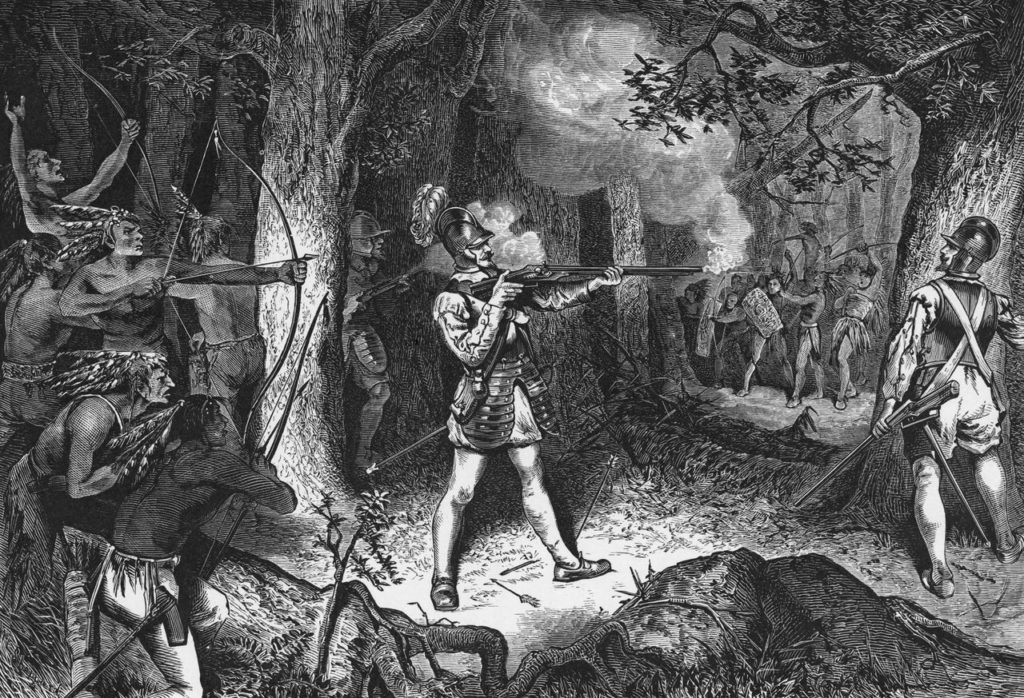 Warfare and the introduction of European diseases such as measles and smallpox triggered and exodus of Mohawks from Tiohtià:ke into safer parts of the territory as the leaders attempted to deal with the crisis while ensuring the territory was defended.
An ultra-Catholic organization of mystics called "The Notre Dame Society of Montreal for the Conversion of the Savage Peoples of New France" took advantage of this situation to establish a colony called Ville-Marie on the island in 1642.
This triggered an all-out war between the French colonists and the Kanien'kehá꞉ka First Nation, lasting until 1701.
On the sunny morning of May 18th, 1642, the colony of Ville-Marie was founded on a Tiohtià:ke meadow with a Catholic ceremony. A group of French colonists had set up an altar, decorated with trilliums and violets, and Jesuit Father Vimont celebrated mass.
He declared Ville-Marie was only a grain of mustard seed, but then said "I have no doubt that this small seed will produce a tall tree that will bring forth wonders some day."
The Jesuits have a disturbing history in the context of contemporary discussion about cultural genocide.
Ignatius de Loyola, a Spanish soldier turned priest, founded the Jesuit movement in 1534.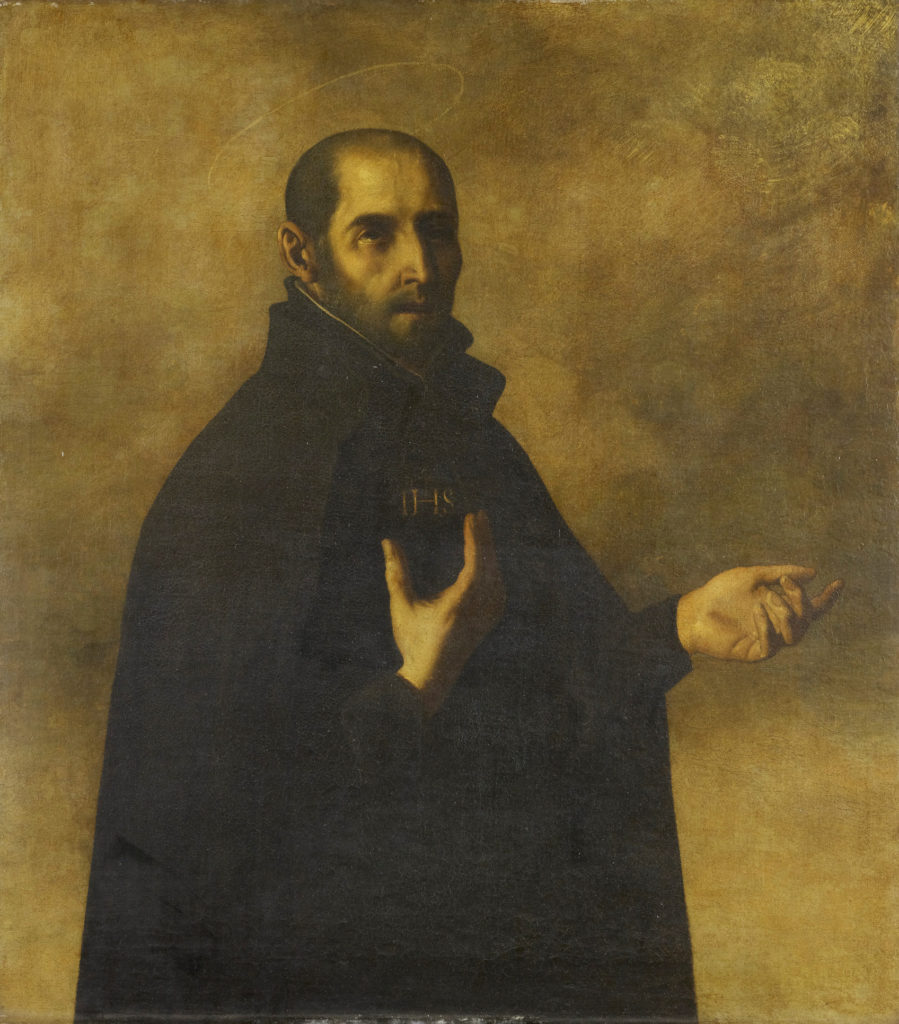 The first Jesuits took vows of poverty and chastity and made plans to work on converting Muslims and others to Catholicism at all costs.
Some of the religious philosophy driving the Jesuits can only be described as deranged in the modern world.
For example, in The Jesuit Relations and Allied Documents: TRAVELS AND EXPLORATIONS OF THE JESUIT MISSIONARIES IN NEW FRANCE, 1610—1791 a chapter is devoted to the burning and torture of Indigenous people.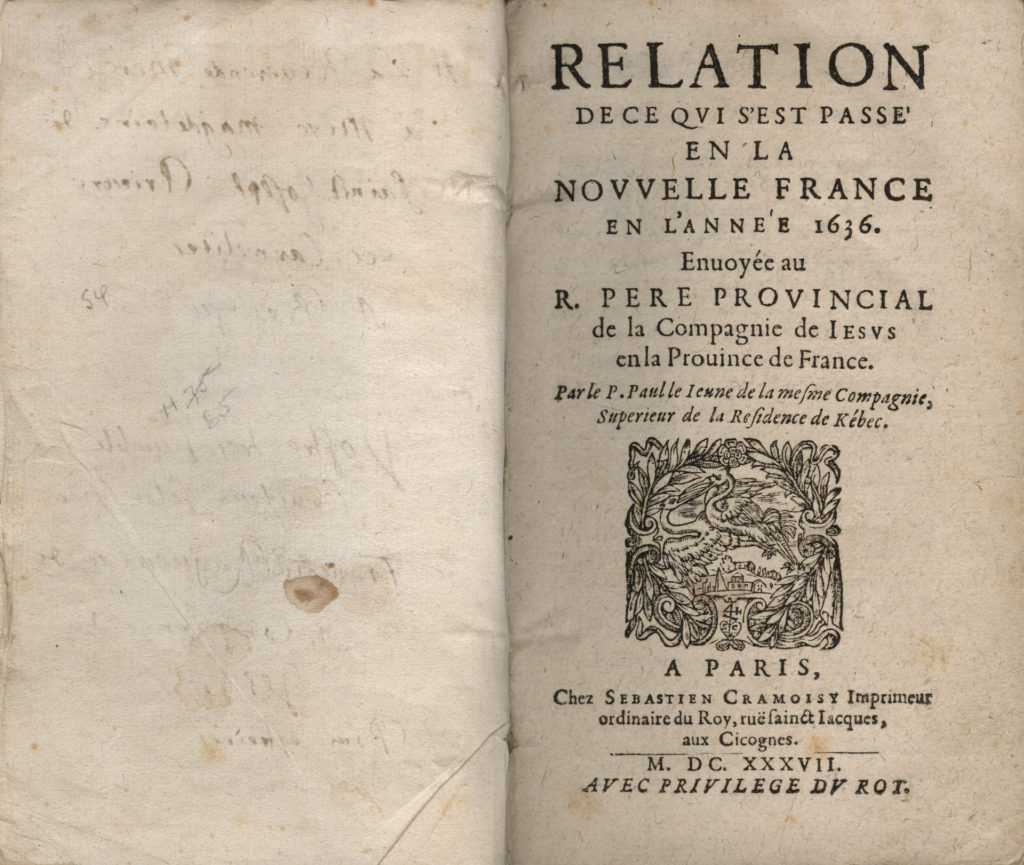 The Jesuits wrote that burning people alive who had refused to convert to Catholicism or otherwise offended the priests was the surest way for them to reach Heaven:
"So sure are they, that we have scarcely ever seen an Iroquois burned without regarding him as on the way to Paradise; nor have we considered a single one as certainly on that road whom we have not seen pass through this torture. Before their torments, these prisoners are duly instructed and baptized by the Jesuits; the Wolf is changed all at once into a lamb, and enters the fold of Jesus Christ, which he came to ravage."
As Ville-Marie grew, the Jesuits bought the land located north of rue Notre-Dame in 1692.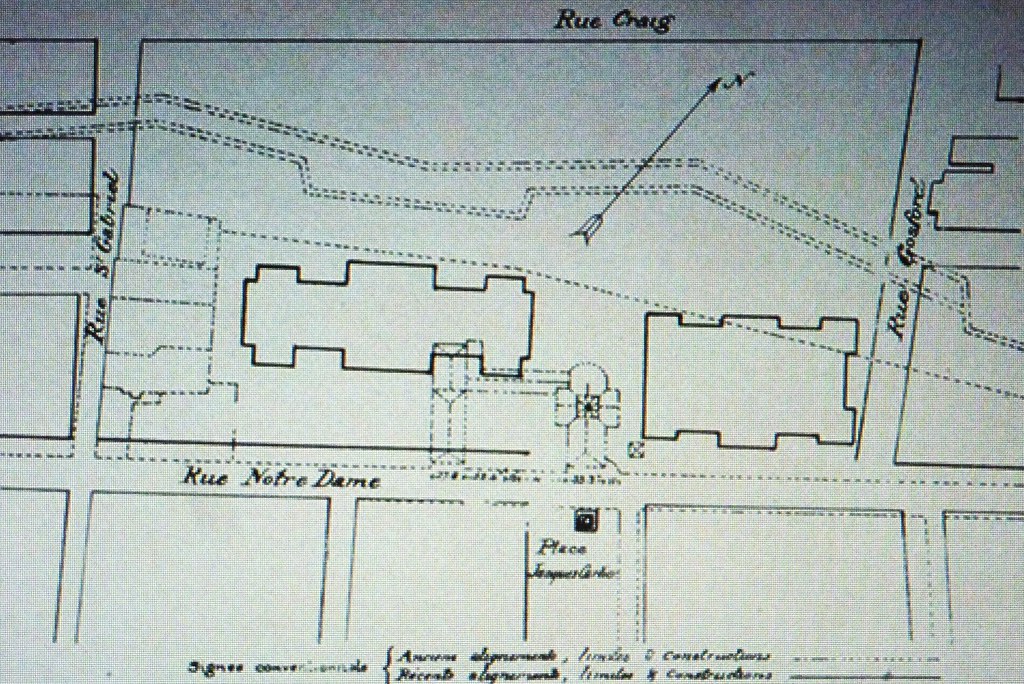 The parcel was six hundred and forty-six feet in front and one hundred and twenty feet deep with a view of the sloping land leading to the river.
The Jesuits built a monastery for themselves and named the area Place des Jésuites.
Gruesome torture, execution and genocide were all hallmarks of the space in front of their monastery.
In one such episode in 1696, four members of the Haudenosaunee Confederacy were tied to stakes and tortured with hot irons until they perished.
In Montreal: After 250 Years by historian W.D. Lighthall, a gruesome scene is described in a chapter called "THE BURNING OF THE FOUR IROQUOIS, 1696".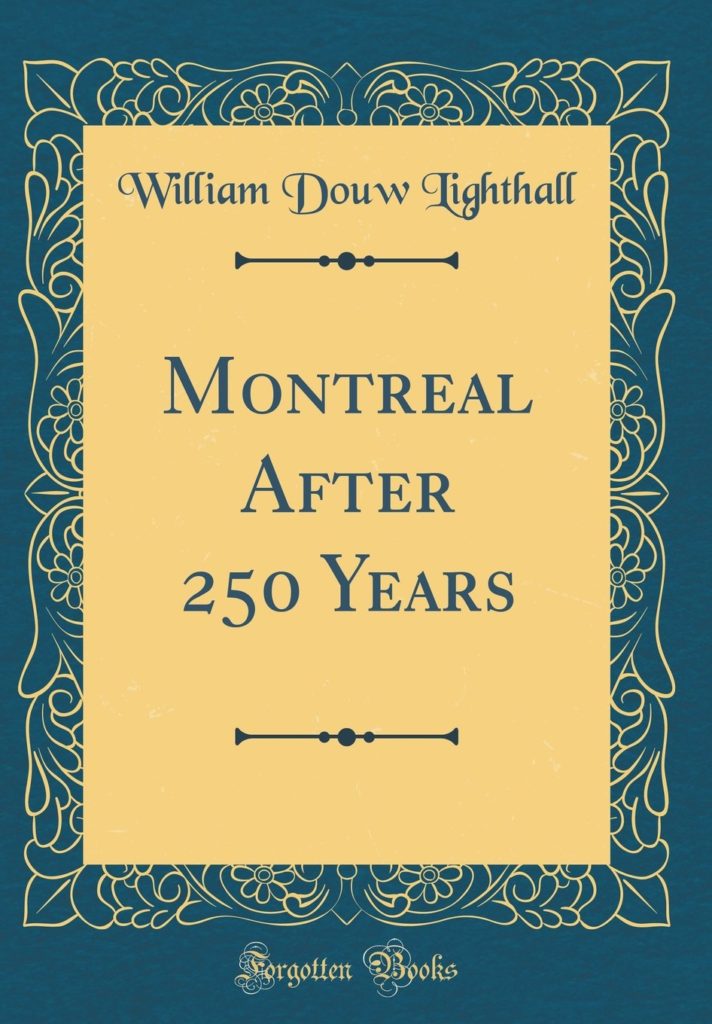 Lighthall explained:
"An eye-witness of the burning of the four Iroquois on what is now Jacques Cartier Square thus describes it: "When I came to Montreal for the first time, it was by the St. Francis Gate. I there saw a man of my province, who came up to embrace me, which he did and after some compliments, informed me that he was of our company. As we were speaking together, he perceived that I was much distracted because of a large crowd that I saw on the Place des Jésuites."
"Thereupon my new comrade exclaimed: 'Upon my word! you've just come in time to see four Iroquois burnt alive. Come on as far as the Jésuites; we'll see better.' It was immediately in front of their door that this bloody tragedy was to take place. I thought at first they would throw the poor wretches into a fire; but on looking around on all sides, I saw no faggots for the sacrifice of the victims, and I questioned my new friend about several small fires which I saw at certain distances apart from each other…They led out these four wild men, who were brothers, and the finest looking men I have ever seen in my life. Then the Jesuits baptised them and made them some scanty exhortations; for, to speak freely, to do more would have been 'to wash the head of a corpse.' The holy ceremony finished, they were taken hold of and submitted to punishments…"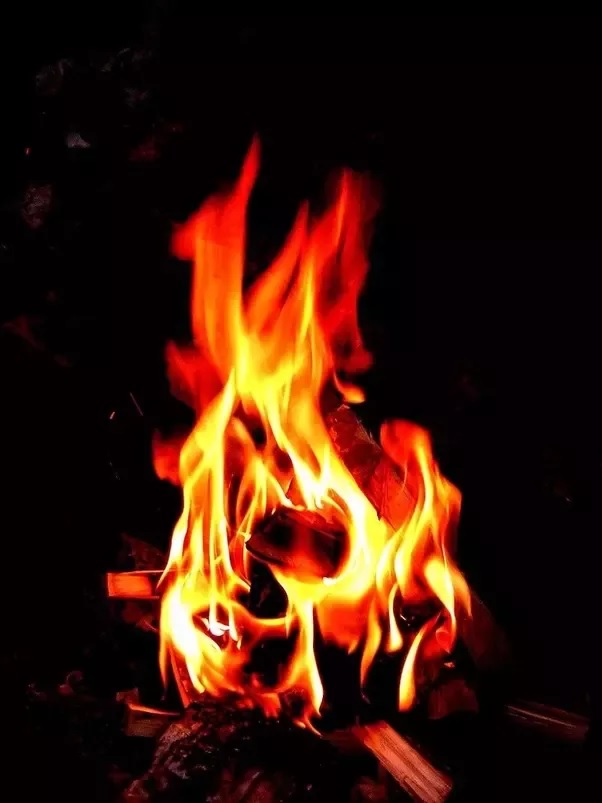 "They bound them naked to stakes stuck three or four feet in the ground, and then each of our Indian allies, as well as several Frenchmen, armed themselves with bits of red-hot iron, wherewith they broiled all parts of their bodies. Those small fires which I had seen served as forges to heat the abominable instruments with which they roasted them. Their torture lasted six hours, during which they never ceased to chant of their deeds of war, while drinking brandy, which passed down their throats as quickly as if it had been thrown into a hole in the ground. Thus died these unfortunates with an inexpressible constancy and courage."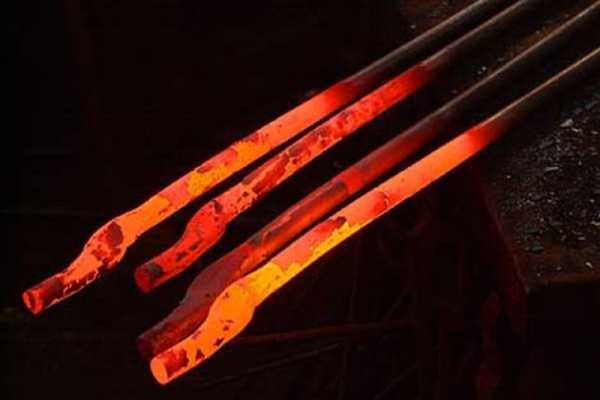 To this date, historians have not yet compiled how many Indigenous people were tortured and murdered on the Place des Jésuites.
Following the British conquest of 1760, the Jesuits began to fall out of favor. In 1773, Pope Clement XIV encouraged the British authorities to seize the Jesuit residence and to build a courthouse instead.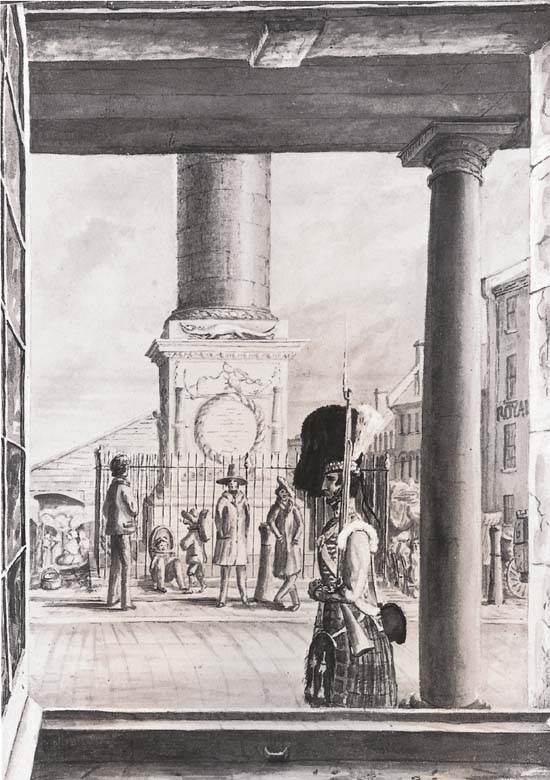 The Jesuits were officially banished and were only allowed to return to Quebec in 1842.
Today, the Pope of the Catholic Church is a Jesuit. Whether or not Pope Francis has atoned for these gruesome Jesuit crimes from the past is unknown.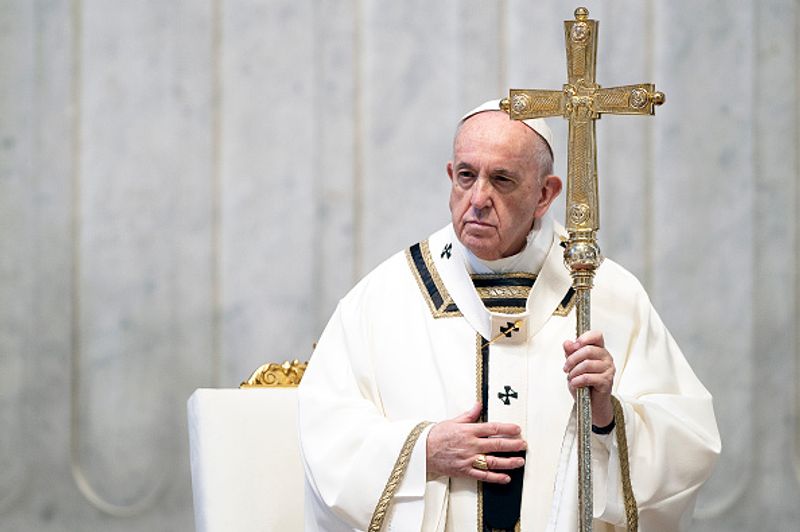 Whatever the case, it is always a good idea to think twice before crossing the Place Jacques Cartier late at night when the ghostly Jesuit priest is known to make his appearance.
Company News
Haunted Montreal is extremely pleased to announce that all of our tours are up and running again (apart from our Haunted Pub Crawl)!
Our ghost tours are being held on both Friday and Saturday nights in August.
Our Paranormal Investigation is also available on the last Friday and Saturday night of every month. Fridays are in English and Saturdays in French.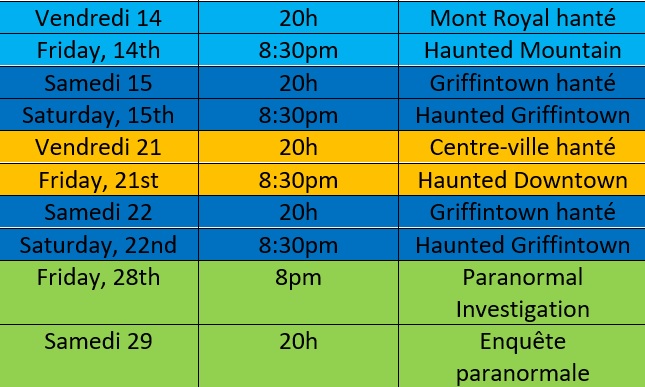 For September, tours will mostly run on Saturday nights.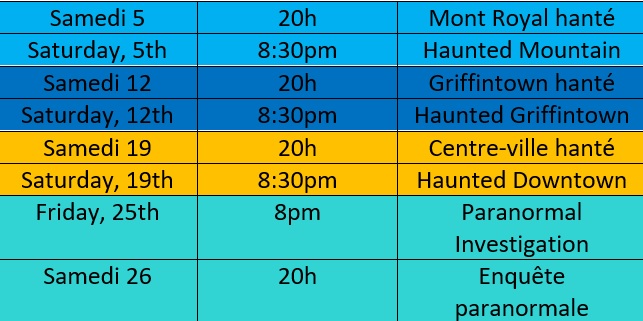 Private tours can also be arranged based on the availability of our actors and we will be announcing our Hallowe'en Season in our next blog!
All of our tours and experiences are restricted to a maximum of 20 clients. We also practice social distancing and offer face masks and hand sanitizer to our clients to ensure Public Health directives are met.
We are also thrilled to announce that following our publication last month about The Haunted Award, the ex-administrator has finally returned Haunted Montreal's trophy after months of refusing to. Haunted Montreal is happy that our Award is finally home where it belongs.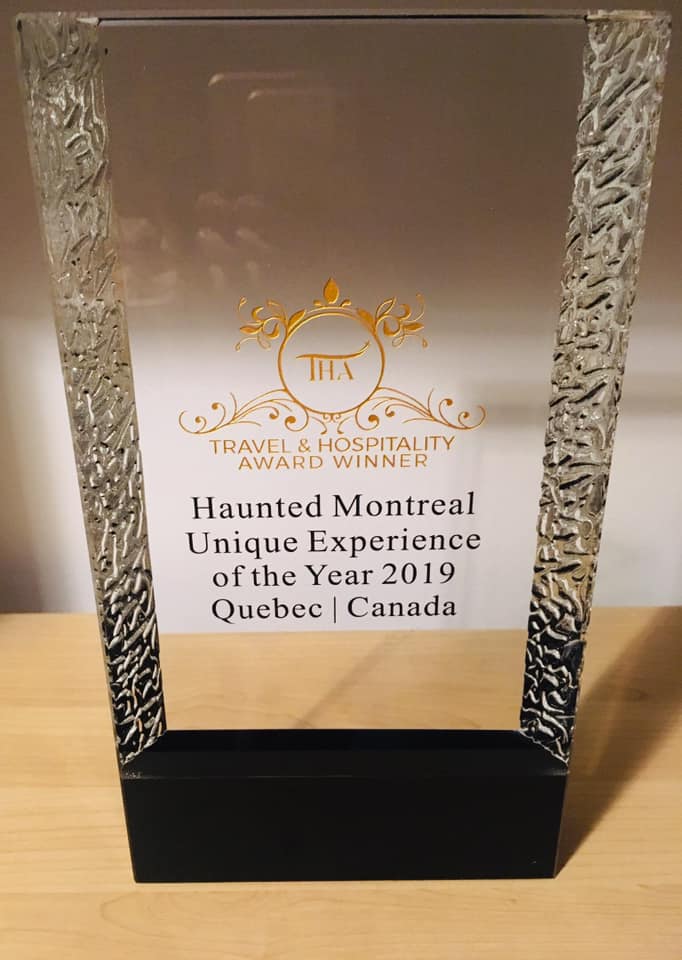 Haunted Montreal would like to thank all of our clients who attended a ghost walk, haunted pub crawl or paranormal investigation during the 2019 – 2020 season!
If you enjoyed the experience, we encourage you to write a review on our Tripadvisor page, something that helps Haunted Montreal to market its tours.
Lastly, if you would like to receive the Haunted Montreal Blog on the 13th of every month, please sign up to our mailing list.
Coming up on September 13: The Ghost of the Wartime Bomber Pilot
One hot July day in 2007, the strange ghost of a wartime bomber pilot appeared out of thin air in a downtown Chapters bookstore on the corner of Stanley at 1171 Saint Catherine Street. A woman named Kim J., who had headed inside to cool down at the café with an iced cappuccino, was browsing the shelves when the ghost appeared. Wearing a World War II bomber pilot flight-suit, the ghost had a corpse-like pallor and stared at her through its hollowed eyes, as though lost. She tried to scream, but nothing came out. When she desperately broke eye contact with the apparition, it disappeared. Today, the building hosts a Victoria's Secret lingerie boutique – and the eerie paranormal experiences that still occur from time to time.
Donovan King is a postcolonial historian, teacher, tour guide and professional actor. As the founder of Haunted Montreal, he combines his skills to create the best possible Montreal ghost stories, in both writing and theatrical performance. King holds a DEC (Professional Theatre Acting, John Abbott College), BFA (Drama-in-Education, Concordia), B.Ed (History and English Teaching, McGill), MFA (Theatre Studies, University of Calgary) and ACS (Montreal Tourist Guide, Institut de tourisme et d'hôtellerie du Québec). He is also a certified Montreal Destination Specialist.