January 1st, 2023
My name is Donovan King and I am an Irish-Montreal heritage activist, historian, teacher and tour guide. Being of Irish roots, I abhor colonialism in all its forms and advocate on behalf of Truth and Reconciliation wherever I can.
I am writing today to describe an incident of censorship against my anti-colonial work. I am also republishing the censored text.
In 2014, I was invited as a Director by the Irish Monument Park Foundation and asked to write a detailed History Paper about the Black Rock Famine Cemetery.
Entitled Montreal's Irish Famine Cemetery: Commemoration Struggles from 1847 to the Present, the purpose was to bolster our chances of success in creating a world-class park devoted to commemorating our Irish Famine ancestors in Montreal.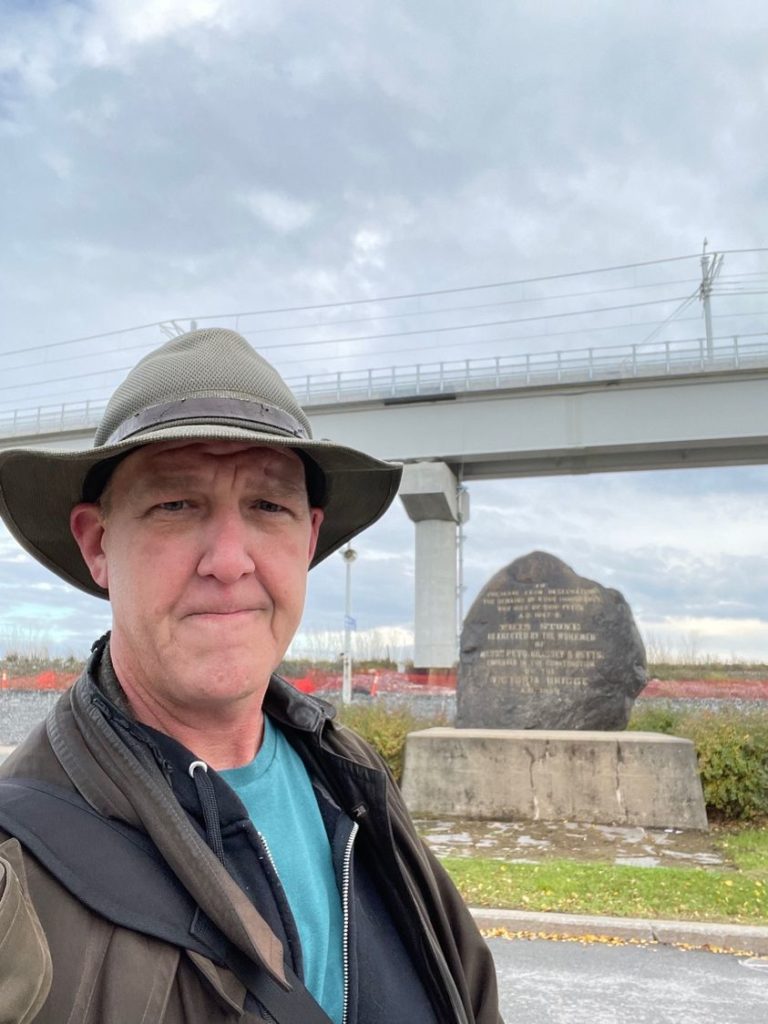 I presented the paper at a conference at Concordia's School of Irish Studies. It was subsequently used as an important reference by Hydro-Québec when they took over the park project after purchasing the land.
As an academic, I was very proud of my work. Our Famine Cemetery has been desecrated again and again for over 150 years. It still is to this very day.
As a heritage activist, I take these issues very seriously. For example, I challenged Montreal Mayor Valerie Plante regarding her decision to desecrate our Famine neighbourhood of Griffintown by co-branding its REM Station with a politician named Bernard Landry.
However, despite my best efforts at protecting local Irish-Montreal heritage, my History paper was censored by Fergus V. Keyes, website administrator at the Irish Montreal Park Foundation.
To censor my work, Fergus simply deleted it from the website. He did this without consulting the Board of Directors or even informing me:
Ironically, Fergus censored the very History paper that he had originally requested me to write as a fellow Director at the Irish Monument Park Foundation.
He also went on to scrub my name from the Board of Directors without any governance whatsoever. I never resigned, there was no meeting, no vote or anything else:
He then blocked me from all social media associated with the Irish Monument Park Foundation.
I was added to the organization's "blacklist", joining dozens of others in the Irish-Montreal community who have been cut off from communications and information about our Famine ancestors and the park project
Why did Fergus V. Keyes do all of this?
As a Truth and Reconciliation activist, I had challenged his posts on the Irish Monument Park Foundation's Facebook Page that I considered racist.
Fergus openly supported British figures associated with Indigenous Genocide, such as General Jefferey Amherst and Sir John A. McDonald.
I do not support these Genocide symbols directed against our Indigenous brothers and sisters. Indeed, I believe that they must be addressed and subsequently dealt with.
My paper was likely censored by Fergus V. Keyes because I am an anti-colonial activist who supports Truth and Reconciliation.
He, on the other hand, has a tendency to glorify British colonialism – the very system that resulted in sickening atrocities against Indigenous, Irish and various other peoples across the planet.
Due to these serious problems with governance at the Irish Monument Park Foundation, I have requested a Leadership Review from Hydro-Québec, who are overseeing the project:
I have also called for the resignation of Fergus V. Keyes from the Board of Directors.
In the meantime, I am republishing my History paper here because it is an important resource in the local Irish-Montreal community and for international Famine and Genocide researchers. The paper covers the sordid colonial history of our Black Rock Famine Cemetery that resulted from the unimaginable tragedy of 1847.
Hopefully, 2023 will be a fruitful year resulting in the current "leadership" of the Irish Monument Park Foundation being thoroughly reviewed and then reformed.
Censoring local Irish-Montreal History papers, scrubbing Directors from the Board without any governance and excluding Walking Tours to the Black Rock on social media all point to petty and incompetent management.
Furthermore, dozens of local Irish-Montrealers are also excluded and blocked from the Irish Monument Park Foundation's social media pages. Members of organizations such as the GAA, Saint Patrick's Society, Irish Montreal Experiences, Ancient Order of Hibernians and the 32 Solidarity Committee were blocked for asking tough questions and challenging posts by Fergus V. Keyes that glorified British colonialism and Genocide symbols.
Our 6000+ Irish Famine ancestors buried under the Black Rock deserve far, far better treatment. The descendants of those unfortunate souls, who wish to ensure that a proper park and memorial is created at the Black Rock site, also deserve a lot more respect.
To exclude Irish-Montreal Famine descendants from participating in commemorating their own Famine ancestors is beyond disgraceful.
As such, it is high time for Hydro-Québec to carry out a third-party leadership review of the Irish Monument Park Foundation and its serious problems with misgovernance, exclusion and historical ignorance.
For the Foundation to promote on its social media pages symbols of British Genocide against Indigenous peoples – all the while complaining about brutal British colonialism against the Irish – is both ignorant and hypocritical.
For the sake of our Irish Famine Ancestors, please join the conversation!
Erin go Bragh! ☘️
Donovan King
Irish-Montreal Historian
p.s. To stay informed or add to the discussion, please join the Irish Montreal Heritage Discussion Group Facebook page.