Submission for Public Consultation regarding Pavillion F
(Dossier no : 1196347005)
September 25, 2019
TO: OCPM and South-West Borough
RE: Dossier no : 1196347005 (Public Consultation)
FROM: Donovan King, Griffin Tours
Dear OCPM and South-West Borough,
As a Director and historian with the Irish Monument Park Foundation, my goal is to work with stakeholders and the Irish Montreal community to preserve and enhance as much Irish Montreal heritage as possible, especially as related to the Irish Famine of 1847.
Our community feels like our Irish heritage is quickly vanishing from Montreal's city-scape and we want to stop this trend and do everything in our power to preserve as much as we can.
We are happy that Pavilion F of the ETS will include "a street garden 6 m deep at the corner of William and Murray" according to the Projet particulier de construction d'un bâtiment institutionnel au 1130-1134, rue William – Pavillon F de l'École de technologie supérieure.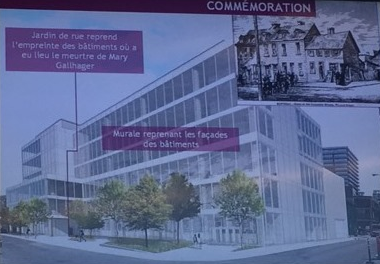 As you may know, this corner has a lot of significance for Montreal's Irish community because it is a traditional area for storytelling. Irish-Montreal storytellers, or seanchaithe, have gathered on this corner for well over a century to tell Montreal's most famous legends and ghost stories, among many other tales. Montreal's most popular legend, the ghost of Mary Gallagher, is set on this corner. As you may know, her ghost is said to return every 7 years to the corner, allegedly because she is still searching for her head. Montrealers had a great time on the corner on June 27 of this year, eagerly awaiting the ghost of Mary Gallagher to return on the 140th anniversary of her murder.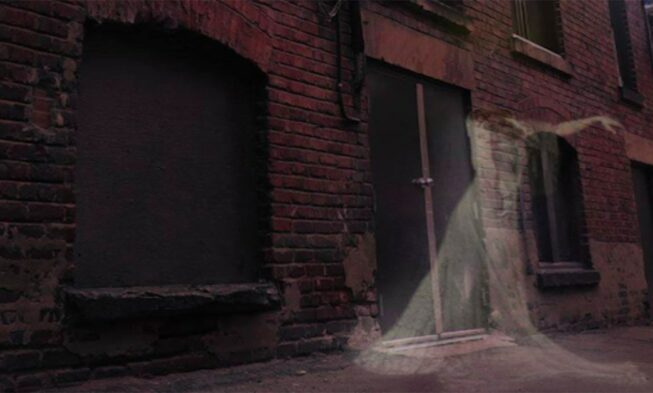 She was murdered in 1879 in a long-since demolished home on the south-east corner of William & Murray Streets, and her ghost is reported to return every 7 years. It's is one of Irish Montreal's most famous traditions and her next appearance is anticipated on June 27, 2026.
Given that there are almost no tourist attractions in Griffintown, it makes very good sense to preserve the haunted street corner as a commemorative and touristic park with a Montreal-Irish theme for future generations of locals and tourists to enjoy.
The Griff has been redeveloped way too quickly and it is time to put the brakes on this approach before all the heritage is destroyed. The Griff needs tourist attractions that reflect the area's remarkable history.
In Edinburgh, Scotland, a statue of a dog is one of the most popular tourist attractions. People love it because it has a great story attached to it.
We are proposing a similar statue of Mary Gallagher's headless ghost in the "street garden" as its centerpiece. Tourists would come in droves to take their photos with it, especially with the exponential increase in Haunted Tourism the city is currently witnessing.
Furthermore, tour companies Haunted Montreal, Griffin Tours and Irish Montreal Excursions frequently lead tourists to this site, and fear if the corner "street garden" is not well-designed, it could affect the authenticity and logistics of the haunted and historic walks.
We have been asking the ETS to work with the local Irish community and the City of Montreal to preserve a portion of the south-east corner of William & Murray Streets as park, which would become an important and innovative Irish-Montreal tourist attraction. To date, the ETS has said that it intends to work with the City of Montreal and not the Montreal-Irish community directly.
I appreciate that the ETS markets itself as a hub of innovation and entrepreneurship, and hope we can reach an understanding in regards to the innovation in the local heritage and tourism economy I am proposing.
As such, I am advising the OPCM to do everything within its power to ensure the "street garden" on the south-east corner of William and Murray Streets is designed in consultation with the local Irish community in order to reflect our important history on the site and to ensure it is accessible for walking tours and storytelling.
Ideally, it would be called "Mary Gallagher Park," to commemorate Montreal's most infamous legend and ghost story, and include historical panels and a work of public art, such as a statue of Mary Gallagher's headless ghost searching for her head.
We hope we can count on your support and hope you can help our Irish community accomplish our goals of heritage preservation and innovative tourism infrastructure.
Please help us in the creation of a future Mary Gallagher Park on a portion of the south-east corner of William & Murray Streets! It is the right thing to do for future generations of Montrealers!
I look forward to hearing from you!
Sincerely,
Donovan King, MFA, BEd, BFA, DEC, ACS
p.s. Here is some recent media related to the "Mary Gallagher Park" project:
CBC Montreal. On the 140th anniversary of Mary Gallagher's murder, historian appeals to city to mark Griffintown sites. Elysha Enos. June 27, 2019.
CBC Radio One – Daybreak with Ainslie MacLellan. Interview with Donovan King of Haunted Montreal. June 27, 2019.
YouTube. JD Hobbes. The return of Mary Gallagher: a 2019 invitation. June 26, 2019.
Montreal Gazette. Will Montreal's most infamous ghost appear Thursday night? Bill Brownstein. June 26, 2019.
Montreal Times. Will Mary Gallagher's headless ghost return on June 27? John Symons. June 20, 2019.
Haunted Montreal Blog #46. The Ghost of Mary Gallagher Returns on June 27! June 13, 2019.