The first-ever World Infringement Congress is being held in Montreal on Saturday, November 19, 2016 as part of the 13th annual Montreal Infringement Festival!
Set on the heels of the controversial and exclusive third World Fringe Congress, the Infringement Congress was created to tackle important issues in the arts that tend to get glossed over at the original event, which tends to focus a lot on business practices. Instead of discussing business strategies like trademarking, cross-branding and charging artists money to play at "Fringe" festivals, the World Infringement Congress will focus on how to empower artists and communities by challenging corporate interference in the arts.
Set in an old bank that was reclaimed as an arts space, the World Infringement Congress will welcome academics, artists, activists and community stakeholders, as well as infringement festival organizers and "Fringe" managers. The purpose is to explore serious issues and themes in the arts and festivals with a view of finding ways to empower artists and communities. Here is the line up:
10:00 -10: 30 am – Breakfast & Introduction
10: 30 – 11:00 am – Trump, Globalization and Infringement (by Der Kosmonaut – Kasai Dear)
11:00 – 11:30 am – Arts in Point Saint Charles (by Fergus V. Keyes)
11:30 am – 12:30 pm – Buffalo Infringement presentation (by Cat McCarthy)
12:30 pm – 1:15 pm – Lunch Break
1:15 pm – 2:00  pm – Last Dance on the Main (Aristofanis Soulikias) & Save the Main (Velma Candyass)
2:00 pm – 3:15 pm – WTF?! (What the Fr*nge?!) by Donovan King
3:15 pm – 4 pm Fringe Trademark Debate Challenge: The Canadian Association of Fringe Festivals, who excluded infringement artists from attending the World Fringe Congress, has been invited to debate their trademark on the word "Fringe", Canadian Parliamentary style!
Running from 10 am to 4 pm on Saturday, November 19, 2016, the World Infringement Congress will feature lectures, presentations and screenings related to the activist themes. Catering will be provided and there will be a bar onsite for guests. The venue is located at 1900 Wellington Street in the historic working class neighborhood of Point Saint Charles.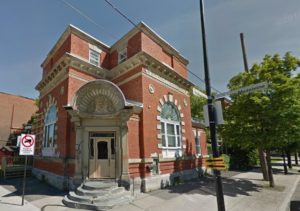 Instructions for attending:
If you would like to attend the World Infringement Congress, please email to Donovan King at optatif@gmail.com with the word "Congress" in the title. Apply early as space is limited!

Directions:
Busses leave from the Charlevoix metro on the Green Line at around 9:40 am on Saturday mornings.
Bus 71 and Bus 57 will take you to the venue, located on the Corner of Wellington and Sainte-Madelaine Streets. A metro card can be used to transfer to the bus and costs $3.25.
You can also walk to the venue in about 15 minutes from the Charelovoix metro station.