Anyone who has children, or works with them, can tell you that there is almost nothing worse than the death of a child.  There can be no excuse to subject society's most vulnerable members to oppression and massacre, and the realisation that over 250 children have being killed during the assault on Gaza is enough to make one sick to the stomach.
The rallying call to end the oppression brought over 10,000 protesters to the streets of Montreal on Saturday January 10th.   Comprised of all stripes and backgrounds – Palestinian, Jew, First Nations, and pro-peace supporters of all ethnicities and languages, males and females, children and grandparents – protesters demanded an end to the violence in Gaza.
The death toll is nearing the one thousand mark, and this includes hundreds of innocent women and children, all killed by Israeli bombs and ground troops. The atmosphere within the rally was angry, and many of the protesters carried images of recently killed Gazan children, or facsimiles thereof: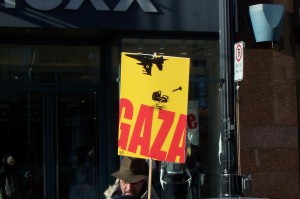 Protesting a total failure on the part of humanity to protect its most vulnerable, the march put oppressive forces that disregard innocent human life into the spotlight, such as the Israeli government and Hamas.  Both organizations are pro-war, and both use indiscriminate violence such as rockets and bombs aimed at random populations to attack each other. The rally was dubbed as "pro-peace", and many of protesters brought their own children in a show of solidarity with the children of Gaza.  Many of the banners and other protest props were strongly in favour of peace.
Indeed one group of theatre activists even assembled their own "love-in" bed, reminiscent of John Lennon and Yoko Ono's honeymoon at Montreal's stately Queen Elizabeth Hotel.  On May 26, 1969, the newlyweds started a week-long "bed-in", demanding that the world "Give peace a chance".
Amazingly, even jolly old Saint Nick made an appearance, complete with white beard, red suit, and big bag of goodies.  During an interview, this theatre activist explained that he has been attending rallies for many years now dressed as Santa Clause.  His rationale is manifold.  Firstly, the children at the rallies appreciate him, and he can explain the issues to them and their parents in a friendly and easy-to-understand manner.  Secondly, he can give gifts to the protesters, such as food, information, or warm touques in the winter.  Lastly, because he plays Father Christmas, the media is always interested in hearing what he has to say – and this Santa promotes peace and activism over indifference and consumerism every time.  An excellent re-appropriation of a now-corporate symbol, the activist Santa is further proof that by theatricalizing activism, positive new spaces can be opened for transformative purposes.  This Santa is not only free to visit, but may also give children the gift of education on activist topics. So next time there is a rally against the killing of innocent children, do not be afraid to bring your own children to the march, because with clever theatre activism it is now entirely possible to show defiance and solidarity – along with the kids and jolly old Saint Nick himself.