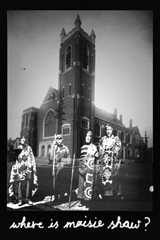 The Reverend Kevin Annett knows what it's like to be under the microscope.
He was kicked out of the United Church for speaking out against what happened to native people in Canada's residential school system. When it became apparent that he wouldn't be silent and do what he was told, they made things very difficult for him. Despite the breakup of his marriage and being denied a degree among other things, he persisted, bringing survivors of the schools all the way to the United Nations.
The movie Unrepentant juxtaposes Annett's story with that of residential schools and the genocide native people endured through this system.   He now hosts a weekly radio show called Hidden From History which first went on the air in 2001 and runs a website with the same name that spreads the word about the struggle for acknowledgment of what happened in the past as well as what is going on right now.
Some of those posts have caught the attention of the RCMP, not only for exposing the force's complicity in past wrongs such as removing native children from their families on gunboats and taking them to the residential schools where many died but more importantly for allegations of RCMP involvement in the disappearance of indigenous women from Vancouver's downtown east side.
In 2006, he published six eyewitness statements claiming government, police and church involvement with pedophile rings, child pornography and snuff films. Annett sent copies of the statements to various police and government agencies and received no response until last week.
Reverend Kevin Annett in a scene from Unrepentant
He got an e-mail from RCMP Corporal Sabrina Mill who wants to meet with him and discuss the allegations and other postings. Annett wants to make this meeting a public one.
He has invited Cpl. Mill to take part in "an open forum on the issue of police and RCMP complicity in the disappearance and death of aboriginal people, including in the Indian residential school system."
She has not responded yet, so Annett has started an online petition asking her to take part in a public meeting, you can sign it here.  Here is a trailer for Unrepentant: