Like a flash in the pan, the 12th edition of Montreal's infringement festival has come and gone! Running from June 17 – 21, the festival offered a 5 day schedule packed with poetry, spoken word, musical performances and theatrical walking tours!
Opening on Wednesday night was Fractal III, an activist evening of poetry and spoken word. Performed entirely in French and organized by poet-troubadour Louis Royer, this event brought together more than 20 artists focussed on challenging the austerity measures currently being imposed in Quebec by the Liberal government.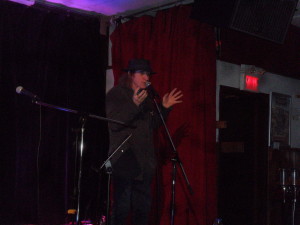 Labo-Taverne Jarry was the perfect venue for this event – intimate, accessible and fully-equipped.
Running concurrently was "A Brand New You", a film by Shawn Whitney, which played to over 50 spectators at Café Republique.
Thursday, June 18 witnessed a series of folk music performances at Kafein, a venue on Bishop Street that welcomes artists to perform. Ottawa's Mahlena Patchouli treated the audience to powerful songs about the environment with A Montreal Paul accompanying on guitar. Up next was Buffalo infringer Laura Lonski, who rocked the keyboard with her band Plumstab.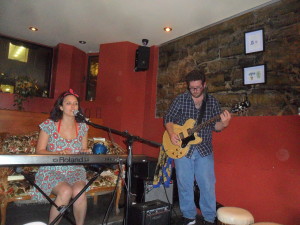 The evening wound down with Harvest Soon's mellow, sun-soaked romantic airs. A late evening of partying between Montreal and Buffalo infringers ensued.
Friday, June 19 is a special anniversary for the infringement festival. In 2001, Car Stories, the show that sparked off the creation of the infringement festival, was kicked out of the St. Ambroise Montreal Fringe Festival because the theatre critic of The Gazette, a corporate sponsor of the festival that year, was offended when asked to pay for her ticket. After being critiqued herself,  she stopped covering the entire festival in retaliation.
Not only was the show evicted to placate the critic and corporation, but the artists were never paid their ticket sales, despite paying hundreds of dollars to be associated with the "Fringe" trademark. This corporate abuse sparked off the creation of the infringement festival, starting in 2004.
On Friday night the infringement festival rocked at Barfly, a venue that has supported the festival since its inception. It all kicked off with Kanaska Carter, an amazing musician from Ottawa who inks tattoos and produces videos when not rocking a crowd with her music.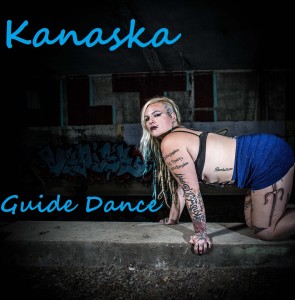 Next up was Space Base, a "Super Funky Psychedelic Jam Band", fueled by improvisation and solid grooves. Positive Feedback finished up the evening, an activist band run by long-time infringement organizer Jay Lemieux.
Saturday afternoon witnessed the infringement festival's first-ever Poetry in the Parc session. Organized by Rebecca Anne Banks, this "open mic" event attracted poetic luminary John Faithful Hamer, along with Melanie Kal and yours truly, Donovan King.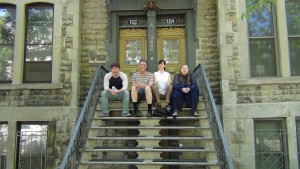 Designed as an homage to Émile Nelligan, an infringer before his time if there ever was one, the event took place in front his bust in Saint Louis Square.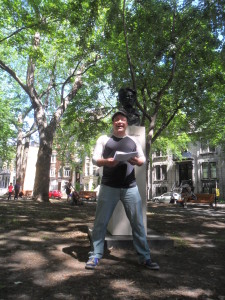 Later that evening, starting at the rumoured-to-be-haunted Barfly, the Haunted Mountain Ghost Walk departed at 8 pm with several guests, including five dogs! Up the slopes of Mount Royal they went, taking in the deranged history of the city, courtesy of Haunted Montreal.
After the Ghost Walk, Barfly got all fired up with PsynLangwage, a veritable revolution in Montreal's hip hop scene.
Up next was The Rock Rollers, followed by Thee Sin Caves, who played late into the night.
Sunday, June 21st, the final day of the fest, started with the Candyass & King Red Light District Walking Tour. Starting at the recently gentrified Midway Tavern, the tour took in some of the seedier sights of Montreal's fast-disappearing Red Light District (now rebranded as the Quartier des Spectacles).
The festival wrapped up with Louis Royer again hosting, this time with a multi-lingual performance called RÉCITAL D'HOMMAGE À LA MUSIQUE, featuring over 20 artists, at the Piranha Bar on Sainte Catherine Street.
Overall, the 12th annual Montreal infringement festival was a blast. A big thank you to  those who helped me organize it – Cristina Mahneke, Louis Royer and Jay Manafest!
For the 13th edition, in 2016, there are big plans in store! For one, the 3rd annual World Fringe Congress will be held in a city outside of Edinburgh, Scotland. Here, corporate businesspeople meet to discuss how to profit from the word "Fringe". Read about the issue here.
The infringement festival, in contrast, features artists and organizers who question corporate interference in the arts. To get involved, please email optatif@gmail.com!