In case you haven't noticed, this is election season in Montreal.  This year's campaign has been quite a raucous one.  There has been plenty of talk about water meters, mayoral candidates' ability to speak English and new transportation strategies.  One issue that seems to have been pushed to the background, though, is the protection of the Main.
St-Laurent Boulevard, the first street to make it's way out of the fortified city which is now called Old Montreal was designated as a national heritage site by Parks Canada.  In keeping with this status "intrusive elements must be kept to a minimal."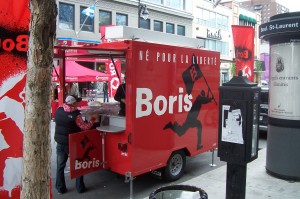 Anyone who's been to the Main lately will notice that this is anything but the case.  From the giant scaffolding wrap billboard mounted last summer by an allegedly dubious promoter, to the billboard trucks that drive up the street all summer long, to the heavy corporate presence at street sales that are supposed to be for local merchants but instead are policed for the benefit of NewAd Media, to attempts by a developer to replace historic performance venues with a giant eyesore office tower, the Main is under threat.
Since Parks Canada has given the city of Montreal the job of protecting the Main, the Reclaim the Main campaign wants to know what politicians are going to do about it if elected or re-elected November 1st.  So, we are proud to present the first ever Reclaim the Main challenge! The rules are simple – mayoral candidates or their appointed representatives are asked to answer this one question:
What will you do to preserve the Main's historic status, promote the interests of those who live and work there and protect against corporate intrusions?
One response per party. English, French or bilingual. Independents are also welcome to respond. Answers should mention their plan to deal with billboard trucks, unscrupulous advertisers and developers and how to combat corporate and private dominance of public space at street fairs.  They should be sent to main@optative.net and will be published here before the election.
The winner gets the endorsement of the Reclaim the Main campaign and OTL and will be featured in this space. Plus, they'll be doing the right thing for the Main and for Montreal.  Ordinary citizens are also invited to address this issue and send their responses to the same address or just post them in the comments below – see how you compare to the politicians!