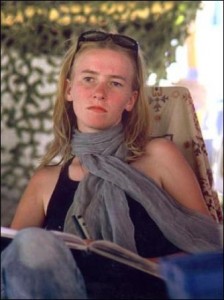 Six years ago this past Monday, 23-year-old Rachel Corrie, who grew up in Olympia, Washington and traveled to the Gaza Strip as a member of the International Solidarity Movement (ISM) was crushed to death by an Israeli army bulldozer as she defended the home of a Palestinian pharmacist in Rafah.  Her memory, though, seems like it cannot be crushed and has only grown.
She kept a journal from when she was a small child and continued writing before and during her trip to Palestine.  That, along with a series of e-mails she sent to her parents became the text of My Name Is Rachel Corrie, a play edited by Alan Rickman and Katherine Viner.
It premiered at the Royal Court Theatre in London with actress Megan Dodds as Rachel and was an instant success.  Its American premier was scheduled to be in 2006 at The New York Theatre Workshop, but was abruptly cancelled, er, postponed, according to a statement.
The play and Rachel herself had become a symbol of what was happening to the Palestinian people that people in the west and in particular the United States could identify with.  She was a passionate and talented writer and her words humanized a situation that was distant for many.  This, for some, was dangerous.
A memorial to Rachel Corrie (2007)
"In our pre-production planning and our talking around and listening in our communities in New York," artistic director James Nicola told the New York Times, "what we heard was that after Ariel Sharon's illness and the election of Hamas, we had a very edgy situationWe found that our plan to present a work of art would be seen as us taking a stand in a political conflict that we didn't want to take."
Many in the New York theatre community and in communities around the world saw this as censorship for political reasons.  From underground artists to Vanessa Redgrave and Harold Pinter, voices rose to oppose Rachel's voice being silenced once again.  Some of the voices opposed to the censorship decided to start a viral theatre project called Rachel's Words and placed some of Rachel's e-mails from Palestine on the web and encouraged groups in communities around the world to read them on the anniversary of her death.  They did.
In Montreal, OTL staged Rachels Words with Rachel's e-mails read by actress Cassandra Witteman.  This was preceded by The Words About The Words, a verbatim theatre script taken from all the raised voices in the media and online debating the censorship of the play from both sides.
video from the Montreal reading of Rachel's Words (2006)
In addition to raising awareness about Rachel's story and what people in Gaza were going through, Rachel's Words raised money for The Rachel Corrie Foundation for Peace and Justice.  The foundation hosts forums, gives out a scholarship and helps to finance projects such as The Rebuilding Project to rebuild the Nasrallah home that Rachel died protecting and The Olympia-Rafah Sister City Project.  In general, it hopes to continue the work that Rachel began.  Rachel's parents, Cindy and Craig Corrie sit on the board.
Despite the global outcry and show of solidarity, Rachels Words were censored again by CanStage in Toronto when they cancelled their proposed production of My Name Is Rachel Corrie for similar reasons as the NYTW later the same year.
The play eventually made its way to the New York stage when the Minetta Lane Theatre  finally staged it off-Broadway in October 2006 with Dodds as Rachel and was presented in Canada as a co-production between Vancouver's Neworld Theatre and Montreal's Teesri Duniya Theatre in 2007 and 2008 with Adrienne Wong as Corrie.  It has since been staged in many different cities.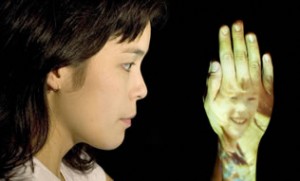 promo image for Neworld Theatre/Teesri Duniya production
Hardships and war in Gaza haven't gone away, as was made perfectly clear with the bombardment a few months ago.  Neither have the voices speaking out against occupation and oppression, be they prominent or not.  Rachel's voice is still among them.
On Monday, Theaters Against War and Rachels Words combined readings of Rachel's e-mails wtih a reading of Caryl Churchill's Seven Jewish Children written in response to the events in Gaza this past January.  They also ran some videos of those events as part of an evening in tribute to Rachel's memory.  Musicians have written and continue to write songs about and for Rachel and artists and activists around the world still continue to mark her death and remember her life.  Many use the occasion to reflect not only on her and what she stood for but for those she fought and died to protect.
Rachel Corrie's words are still with us and the world is better for it.