Montreal's infamous infringement festival runs June 17 – 21, 2015! Celebrating its 12th edition, the infringement fest has been sticking it to the man for over a decade!

When Montreal artists protested the trademarking of the word "Fringe" in 2004 with an "infringement festival", they never expected their activist gesture would blossom into the international movement of rabble-rousing festivals it has become today. Rejecting corporate models that co-opt culture, the infringement festival promotes the arts as a Do-It-Yourself tool for creative activism and community-building.
For its 12th edition, the Montreal infringement festival will once again welcome dozens of critical artists from Montreal and abroad! This year's infringement features an eclectic mix of burlesque dancers, actors, musicians, storytellers, spoken word artists, painters, poets, activists, filmmakers, culture-jammers and artistic visionaries!
Poet Louis Royer will open the 2015 festival with Fractal III, an evening of francophone poetry and spoken word featuring two hours of songs, poetry and slam in an audacious, anti-establishment atmosphere. There are over 20 artists on the opening night program alone!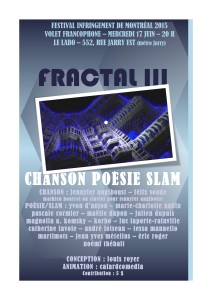 Poetry is a big feature in the 2015 festival, and on Saturday, June 20, a Poetry in the Parc session will be held! Set in historic Saint Louis Square, the event is in homage to an original infringer – Émile Nelligan.
Organized by poet Rebecca Anne Banks, everyone is welcome to recite poetry at this open event – in one of Montreal's most beautiful parks!
Infringement musical performances are bold and varied. Spread over 3 nights at Kafein and Barfly, performers include Kanaska Carter, Space Base, The Rock Rollers, Positive Feedback, Plum Stab, Busker & Josephine, Harvest Soon, Thee Sin Caves, Couch Fire, My Favourite Author and Mahlena Patchouli.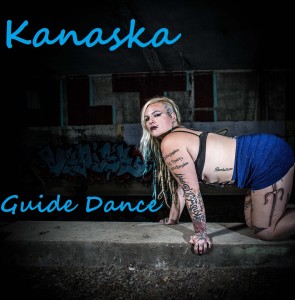 There are also theatrical walking tours, including the ghostly Haunted Mountain ramble up the slopes of Mount Royal, not to mention the salacious King & Candyass Red Light Walking Tour). Other art-forms include film (Shawn Whitney's "A Brand New You"), visual arts (Michael Clague), and burlesque!
The festival will conclude with another big performance, with Louis Royer and over a dozen musicians and poets presenting RÉCITAL D'HOMMAGE À LA MUSIQUE!

It is looking to be an amazing infringement festival with dozens of artists celebrating inclusion, innovation, independence, collaboration and critical thinking – in both English and French.
Based on the original Edinburgh Fringe Festival of 1947, which was a protest by artists against exclusion and elitism, the infringement movement encourages artists and culture-lovers to join the global, Do-It-Yourself movement!  Infringement Festivals have been held in over a dozen cities across the globe, and permanent festivals exist in Columbia (South Carolina) and Buffalo (New York).
The Buffalo infringement has grown into one of the largest arts festivals in North America, demonstrating the need and desire for communities to reclaim their culture from excessive corporate interference. It runs from July 23 to August 2 this year.
Montreal, the birthplace of the international infringement movement, is known as a hub for critical thinking, cultural resistance and social change. While Montreal culture is constantly under threat from corporate forces that exploit artists and spectators, the city has proven once again that, regardless of these challenges, it is still a beacon for innovation in the arts.
Those wishing to volunteer during the festival can sign up here.
Full details about the 2015 Montreal infringement festival, including the schedule, can be found at www.infringemontreal.org. There is also a Facebook page.