After five intensive days featuring dozens of performances in 10 venues, the 2014 Montreal infringement festival has wrapped up, energized more than ever before!
Festival-goers were treated to a variety of DIY (Do-It-Yourself) performances in strikingly different locations all over the city. Starting at Labo de la Taverne Jarry, the festival then meandered all over the place, from the Candyass Cabaret at Café Cleopatre to creating art in an alleyway, from the legendary dive Barfly to the streets of the Red Light District, and from art gallery USINE 106U to the heart of Old Montreal.
Old Montreal is a first for the infringement festival and there was a lot of hoopla about attempting to bring underground arts and culture into a tourist area known more for selling maple syrup and kitschy souvenirs than challenging oppression through activist arts. This year the festival was fortunate to collaborate with artist and promoter Jeff Brosseau to carve out a brand new venue in Old Montreal, which he coined Le P'tit Cabaret.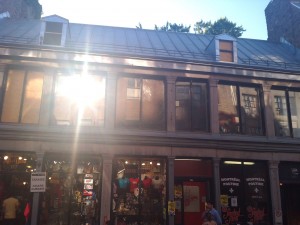 Situated above the historic Montreal Poutine restaurant, just a stone's throw from the Place Jacques Cartier, Le P'tit Cabaret is a very cozy performance space. It's ideal for the infringement festival and for artists doing music, theatre, burlesque, improvisation, comedy and other performances.
Setting up a new venue can be a daunting challenge, and Le P'tit Cabaret was no exception. In fact, a fire in the building a few weeks earlier made the job that much more difficult. Infringers were only able to access the space on Saturday, June 21, with just a few hours to set it up before the first show was due to start. With Jeff Brosseau leading the way, infringers set up equipment, hauled chairs, improvised curtains, and got the taps flowing. Within a couple of hours the space was ready to welcome the public, courtesy of Jeff and hard-working infringement collaborators Laurence Tenenbaum, Liz Faure, Ray Taylor, Jay Manafest and yours truly.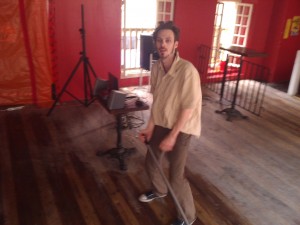 Le P'tit Cabaret proved to be an ideal space for the festival for several reasons. Firstly, it is very versatile and can be reconfigured easily, allowing smooth transitions between film screening, music sets, readings and other shows. Putting art on the walls is also allowed. Secondly, the location is second to none. In the heart of Old Montreal, it's right next to the bustling Place Jacques Cartier. Finally, the staff is incredibly friendly and hard-working. Jeff Brosseau pulled no stops in making the artists feel welcome, providing everything from equipment and a technician to delicious hot pizza and frosty cold beer. He also hired bartending staff to ensure nobody would be left thirsty during the performances.
The result was an unprecedented weekend of back-to-back infringement shows in the same venue, centering most infringement activity in Old Montreal over the weekend. The venue saw a steady stream of artists and audiences passing through its doors, and also welcomed curious tourists, who actually had to pass through Le P'tit Cabaret to access the bathroom because the one below had been damaged in the fire. When the crowds became too large for Le P'tit Cabaret in the evening, Jeff moved everything downstairs to La Caverne, another bar he runs within the same complex.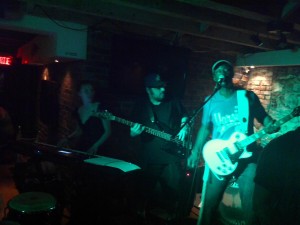 A proper infringement atmosphere was created, the type of tantalizing energy where the unexpected takes center stage. In this type of atmosphere new friendships are formed, future collaborations are planned, and artists are challenged to use the arts with activist intentions and to embrace the DIY ethos.
Unfortunately, Montreal is a pioneer of using the Arts to promote consumerism, as evidenced by the wide variety of corporate festivals. Typically in these festivals artists must either be "professional" and pass an audition or have to pay a hefty fee to put on a show. The artists show up, do their thing, then leave. Unfortunately, this traditional structure does not allow for much conversation between artist and spectator. With such a strong disconnect, there is usually little opportunity for building upon the arts to encourage activism. Instead, the audiences are encouraged to buy beer and other products between acts, or to behave primarily as consumers.
At the infringement, artists are encouraged to stick around, attend the other performances, network and discuss, plan for future collaborations, and to make some noise about cultural issues that affect the community negatively. This year's theme was "Make Some Noise" because Montreal's famous nightlife is under threat by overzealous bureaucrats and politicians.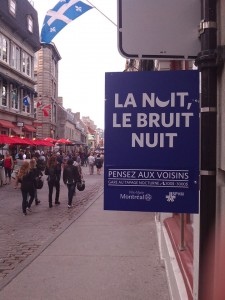 Instead of consuming cultural products, infringers reclaim culture from corporate interference with a DIY ethos and an activist bent. These values are embedded into the very raison d'être of the festival and this year saw the spirit of the infringement soar to new heights.
Le P'tit Cabaret, serving as a centralized venue for two days, can be credited for helping create this incredible infringement atmosphere. It's a feeling one experiences on the streets of Allentown during the Buffalo infringement festival – a mixture of artistic brilliance, feelings of hope and freedom, and cultural resistance to the things we hate. It's a tantalizing taste of a future where artists reign free and corporations do not manipulate the arts.  In Montreal, this feeling is often fleeting, largely due to the normalization of corporate interference in most aspects of daily life. However, for two full days Le P'tit Cabaret managed to hold onto it, energizing artists and audiences to think critically about the arts while simultaneously enjoying and engaging with them.
While the Montreal festival may be over for 2014, there are bright things on the horizon for Le P'tit Cabaret and the 2015 Montreal infringement festival.
Le P'tit Cabaret will continue operating, inviting artists of all varieties to continue bringing authentic culture to Old Montreal. For more information, contact the man of the hour, Jeff Brosseau at barlacaverne@gmail.com
The 2015 Montreal infringement festival will begin organizing soon and is seeking collaborators, or volunteer organizers. Collaborators steer the festival and organize everything from artist recruitment and venue-booking to media work and website maintenance to educating artists about DIY and challenging corporate interference and political incompetence in Montreal. Collaborators hold informal meetings throughout the year and sometimes stage special events. Online participation is encouraged for those who cannot attend meetings. Generally, the festival grows or shrinks based on the number of volunteer organizers, and with more collaborators come better services for artists and audiences. It's noteworthy that most collaborators also present work as artists.
The absolute best way an artist can ensure success for their performance at the infringement festival is to become a collaborator. Email optatif@gmail.com to learn more about collaborating.
Coming up next is the 10th annual Buffalo Infringement Festival, running from July 24 to August 3! This infringement is the largest in existence and typically features thousands of performers doing hundreds of performances – without a hint of corporate manipulation. Western New York's largest festival, the infringement, is a cultural phenomenon that doesn't exists anywhere else on Earth.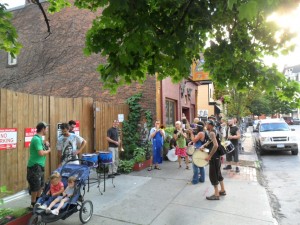 Lastly, the 2nd World Fringe Congress is coming up in Edinburgh, Scotland. Running from August 15 – 17, the infringement festival has been invited again yet again to rub elbows with Fringe administrators from across the planet, many of them in bed with highly unethical corporations. The conversation about corporate manipulation in the arts that started two years ago will continue, with the goal of challenging any cultural gatekeeper who stands in the way of, or tries to financially exploit  an artist's right to play on the Fringe – or to infringe, for that matter.