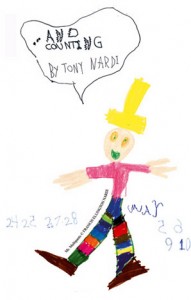 Tony Nardi is not someone who likes to keep silent.  He's also someone who likes to keep the discussion going and continues to incorporate new voices into the dialogue he started and performs as Two Letters…and counting.  Tonight, Sunday and Tuesday, he'll be reading his letters live again at UQAM and filming what happens.
In Fall 2005, Nardi, a Canadian stage and screen actor received a script for the TV series Rent a Goalie which he found contained content which was highly offensive to Italians.  He wrote to about his displeasure to a film and television producer responsible for the project.  Around the same time, he read a series of reviews of The Amourous Servant, a commedia dell'arte play by Carlo Goldoni which he found completely ignorant of what the art form Nardi was proficient in was all about.  He wrote to the critics.
These correspondences were highly dramatic and while technically written to individuals went well beyond the artistic "middle-men" in question to speak of Nardi's struggles with cultural stereotypes in the Canadian theatre, film and television world in the first letter and the misconceptions of commedia dell'arte and what Nardi sees as a developing actor-less theatre culture in the second.
After friends convinced Nardi to not let the letters die and go public with them, he decided they needed to be staged.  He began workshopping them with a handful of people in 2006 and got very strong responses.  The dramatic nature of some of the opinions gave Nardi the idea to incorporate the thoughts he heard into the letters in the form of "ghosts" talking to him and stage the two letters as a performance piece.
Two Letters exposes the fear many people in Canada's arts industries have of coming forward about what they see as negative stereotypes due to the risk of not getting work in the industry.  Some of the "ghosts" that speak to him agree with him but suggest that he doesn't rock the boat too much with his views.  Others, who are on the side of his project debate the format it should take (more letter, less performance vs. more performance less letter).  This is a work in progress in every sense of the term.
The first letter will be performed and filmed tonight, the second on Sunday and Tuesday will be a post-mortem on the two letters and a look to the future.  All performances are free to attend and begin at 7pm in Studio J2545 on the 2nd floor of UQAM's Pavillon Judith Jasmin, 1495 St-Denis corner of de Maisonneuve.