This Hallowe'en season, Montrealers are invited to Haunted Griffintown, a new ghost walk by Haunted Montreal for the 2015 Hallowe'en Season!
On the heels of the highly-successful Haunted Mountain and Haunted Downtown Montreal tours, which have been running since May, the newly-researched ghost walk in the Griff that is sure to raise eyebrows and tingle spines!
Griffintown is one of Montreal's most historic neighborhoods – and one of its most haunted! The Haunted Griffintown Ghost Walk visits mysterious ruins, abandoned tunnels, a polluted canal, former Black '47 burial pits and creepy old buildings that are said to be haunted. A vacant, decrepit brewery hosts psychics in search of a murdered girl, a condominium reminds locals of its past as a chocolate factory, and the ghostly ruins of St. Ann's Church have witnessed paranormal activity.
The tour visits the Peel Basin, the site of many drownings over the years, including one recent case that may be connected to a will-o'-the-wisp – or a serial killer. Those attending will also learn the conspiracy theory surrounding Montreal's worst air disaster, when a Liberator Bomber slammed into Griffintown during WW II, killing 15 people – and the hauntings related to it.
Finally, guests will be regaled with Montreal's most famous ghost story, the deranged tale of Mary Gallagher, the headless prostitute. Mary was murdered and decapitated by her best friend, Susie Kennedy, in 1876 and her headless ghost is said to return to the Griff every seven years, still searching for her head.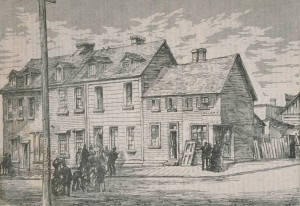 Led by professional actor and storyteller Donovan King, this haunted walk is sure to please ghost hunters, history buffs and Hallowe'en lovers with its creepy tales of the spirits and paranormal activity haunting Griffintown.
The Haunted Griffintown ghost walk starts at the Griffintown Café (1378 rue Notre Dame Ouest, a few blocks south of Lucien L'Allier Metro) and guests have the option to dine in the artistic bistro-pub before the tour. Tours begin at 8 pm sharp on the following dates:
Friday, October 16
Saturday, October 17
Friday, October 23
Saturday, October 24
Friday, October 30
Saturday, October 31
The Griffintown Café is a lively, artistic bistro-pub. It has an excellent menu and a restaurant license (food must be purchased to drink alcohol). For patrons wishing to dine or have a drink and tapas before the Ghost Walk, Haunted Montreal recommends the Griffintown Café very highly. To make dinner reservations (6 or 6:30 pm is advisable) please call 514-931-5299 or contact the Griffintown Café  online.
For the Hallowe'en Season, Haunted Montreal will also offer final tours of Haunted Downtown (October 18) and Haunted Mountain (October 25), which have been running all summer long.