This Hallowe'en season, Donovan King is pleased to offer Haunted Downtown Montreal, a new ghost tour for 2014!
Downtown Montreal is a very busy and bustling place. With towering skyscrapers and a professional workforce that empties out by 5 p.m., it's the last place one would expect to encounter the paranormal. However, just beneath the veneer of urban respectability lie many dark secrets, from forgotten cemeteries to ghost-infested buildings, and the numerous hauntings that go with them.
The Haunted Downtown Montreal ghost walk visits haunted hotels, a creepy church with an alleged resident demon, and other locations where ghosts have been spotted, including the infamous Club 1234. This spooky old funeral home and mortuary has been converted into one of Montreal's trendiest nightclubs, but clients sometimes get more than they bargained for, especially if they dare to visit the ladies' room or the attic!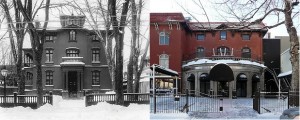 Learn the sickening "Legend of the Red Cross" and hear about how Concordia University students are coping in their new residence, the former Grey Nuns' Motherhouse. With a mysterious crypt packed full of skeletal corpses just a few meters below their bedchambers, some of them are feeling uneasy.
Discover how the City of Montreal is handling and disposing of all of the corpses it unearths in the old Saint-Antoine Cholera Cemetery, as workers carry out renovations of Place du Canada and Dorchester Square.
Hear tales of deranged doctors dissecting near-death pregnant women to the approval of overzealous priests, learn about  Mark Twain's only recorded paranormal experience, discover the strange hauntings at the luxurious Queen Elizabeth Hotel, and encounter the unknown in Montreal's chilly autumn air.
Led by professional actor and storyteller Donovan King, this haunted walk is sure to please ghost hunters, history buffs and Hallowe'en lovers with its creepy tales of paranormal activity, evil demons and the ghostly spirits that haunt these unlikely places – in the heart of Downtown Montreal. On the heels of Haunted Mountain, this ghost tour offers newly-researched stories that are sure to raise eyebrows and tingle spines!
The Haunted Downtown Montreal ghost tour begins at Andrew's Pub (1241 Guy Street, just south of Sainte Catherine Street) on the following dates and times:
Friday, October 24, 8 p.m.
Saturday, October 25, 8 p.m.
Thursday, October 30, 8 p.m.
Friday, October 31, 8 p.m.
Tickets cost $20 and can be purchased through PayPal or reserved at Haunted Montreal. The tour is approximately 90 minutes.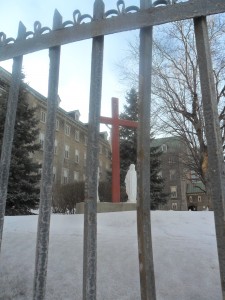 * Please note that this tour is offered in English only. For a highly recommended haunted walk or ghost hunt in French, please visit Fantômes Montréal.