The Main National Historic Site has been the epi-center of a cultural war being fought in Montreal, and it is again the focus in the latest salvo. At stake is the city's cultural future. Artists and activists demanding cultural integrity have been battling corporate interests hell-bent on Disneyfication, and this time the corporate side is attacking again. The potential casualties include people living and working in the neighbourhood, historic buildings, working artists, and the colourful heritage of Montreal's old Red Light District.
After losing the fight to expropriate the historic Café Cleopatre to the artists trying to save it, the Angus Development Corporation is now rumoured to be plotting the "Demolition-by-neglect" of an entire block of heritage buildings. Having bought out and boarded up all other nineteenth century buildings on the western block of The Main between Sainte Catherine and the Monument Nationale, Angus Development Corporation is not properly maintaining or heating them, which caused city officials to declare them dangerous and close off part of the street. Montreal's Minister of Culture, Helen Fotopulos, is now suggesting that the buildings may be dismantled for potential re-use in the future.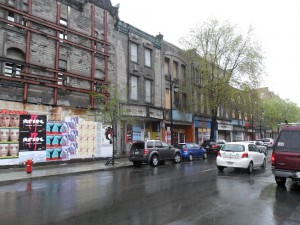 Heritage Montreal has called on the City of Montreal to prevent the demolition of these historic buildings, adding their voice to artists from the Save The Main coalition, who recently presented their own official urban plan to save the buildings and promote tourism at the same time.
If the "Demolition-by-neglect" strategy is permitted by the Tremblay administration, it will effectively ruin The Main National Historic Site and prevent tourists from enjoying Montreal's colourful Red Light heritage in the Quartier des Spectacles. If the historic buildings are razed, The Main National Historic Site will lose its commemorative integrity, as is already happening on the historic corner of St. Laurent and Ste. Catherine Streets. Once famous globally for its illicilt reputation, the Angus Development Corporation recently built the architecturally questionable 2-22 on the South-East corner, totally distorting the integrity of the historic neighbourhood.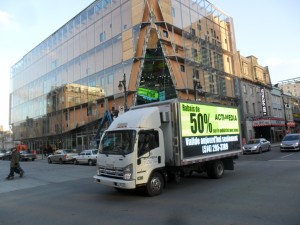 The message from artists and activists is that these irreplaceable buildings should be protected and redeveloped responsibly, and if the Angus Development Corporation is unwilling or incapable, another developer should be found. At stake is nothing less than commemorative integrity of The Main National Historic Site, including the historic Monument-National on the southern end of the block, home to Canada's National Theatre School.
Please demand that the historic buildings on the Lower Main be saved and redeveloped responsibly. Ask the politicians and developer to follow the artists plan instead of the destructive corporate strategy, by writing letters to:
Montreal Mayor Gerald Tremblay – geraldtremblay@ville.montreal.qc.ca
Montreal Culture Minister Helen Fotopulos – hfoto@videotron.ca
Christian Yaccarini (Angus Development Corporation) – CYaccarini@technopoleangus.com