Montreal's "Quartier des Spectacles" project is proceeding at a fast clip. The neighbourhood is currently undergoing major transformations as new parks are laid out, a state-of-the-art concert hall goes up, and select buildings are appropriated and destroyed to make way for "development". Designed to transform Montreal's old red light district and environs into a less-seedy destination for those seeking spectacles of theatre, music, dance, and other performances, the project is attracting more and more controversy.
For reasons unexplained, developers have been busy trying to raze existing authentic performance venues in the area, despite their historical value and ongoing use by various artists and spectators. The storied Spectrum concert hall was unceremoniously demolished to make way for a box store, and now developers are threatening to appropriate and raze the Café Cleopatra, a burlesque venue that should probably be a heritage site by now, and Katacombes, an activist co-op spectacle hall. That St. Laurent boulevard is a historic site where "intrusive elements must be minimal" has not deterred a so-called French "starchitect" from drawing up plans to construct a gigantic 12-story glass office tower called the Quadrilatère Saint-Laurent on the footprint of the destroyed venues, which would only have their facades preserved.
The irony that the "Quartier des Spectacles" project is destroying real spectacle venues and replacing them with office towers is not lost on local artists or residents. Now the very artists who create the spectacles from which the Quartier takes its name are raising their voices in dissent. Many are demanding that developers respect existing venues and stop their plan to destroy local culture and heritage. The Coalition des Artistes du Cabaret Cleo has issued a RED ALERT! and is mobilizing. They are hoping to "integrate the creative spirit of the last 5 years at Cabaret Cleo's within a constructive, honest and positive plan to revitalize Montreal's legendary Main," and have prepared a petition, which you can read and sign here.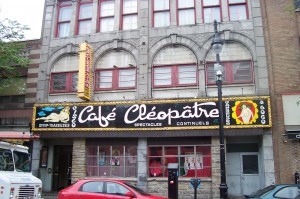 You can sign the petition Saturday June 6th starting a 8pm on the occasion of a "Friends of Cabaret Cleo" rally event (1230 St-Laurent, 2nd floor). There will be a lively evening of performances, lectures and cultural resistance, so join in and add your voice to the chorus of diasapproval. Velma Candyass of the Dead Dolls Dancers, frequent performers at the threatened venue, asks:
"How is a 12 story office tower part of the Quartier des Spectacles? As alternative artists we were looking forward to learning about the proposed revitalization plans for the Quartier des Spectacles. However by eliminating the 2nd floor show bar, a vital venue for local alternative artists in the proposed plans does not endear us to the proposed ideas. They wish to have 'ethical business' such as 'ethical flower shops' 'quebec artisinal soaps ' or or chic bistros. somehow neo vaudeville, neo burlesque and cheap hotdogs do not fit their image of things to be. Cleo is a special venue that has supported and mentored alternative artists. The stage setup is quite unique as it is the only cabaret style setup here in montreal. We simply wish to continue doing our shows and to be included in the Quartier des Spectacles."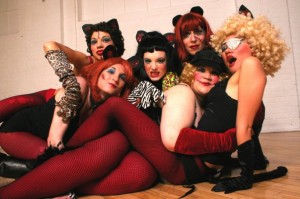 On Tuesday June 9th the Coalition will deliver a lecture of memorandums and a presentation of their petition at the final Public Consultation on the project, to be held at the ballroom of Hôtel Holiday Inn Select, 99 Viger ave. W. (corner St-Urbain), Place-d'Armes metro. The petition will be presented to Société de développement Angus (SDA), officials of the Ville de Montréal as well as the Office de consultation publique de Montréal (OCPM) and Conseil du Patrimoine de Montréal.
Now is the time to support the real Montreal artists and the real Montreal culture. Destroying authentic and storied performance venues in a Historic Site should be illegal. To destroy them in a "Quartier des Spectacles" makes no sense whatsoever. If anything, they should receive protected designation for their authenticity. The idea of bringing in a French "Starchitect" to destroy Montreal culture is utterly appalling, and the notion that a 12-story office tower belongs in a Historic Site suggests that the "Starchitect" is misguided. The tough-guy tactics of threatening appropriation demonstrate once again that Mayor Tremblay is ignoring artists, heritage activists, and business owners in his attempt to push through yet another ill-conceived project. The "Quartier des Spectacles" has a history of kicking out artists who express themsevles in alternative ways, and with an election coming up in November, now is the time to voice your opposition to these disrespectful and counterproductive plans. Sign the petition, and join the artists of Café Cleo in demanding protection for our culture!