On Monday night over 50 masked protesters descended on City Hall for a Masquerade Ball protest – the Bal Masqué. Organized by an ad hoc collective known as Le Gros Bon Sens, the masked demonstration aimed to challenge the anti-mask bylaw the City of Montreal is attempting to pass as part of its larger "Public Security" portfolio, which now also includes a new bylaw against "insulting a police officer".
Masked activists at the Bal Masqué
The Bal Masqué was playful, highly theatrical and extremely peaceful, as masked activists mingled, cavorted and danced at the entrance of City Hall. Before long, a dramatic performance, courtesy of the infringement festival, unfolded on the steps of City Hall. The scene began when two actors playing satirical masked "police officers", one wearing a gas mask and the other a riot helmet, arrived to survey the protest and attempt to intimidate activists wearing masks at the Bal Masqué.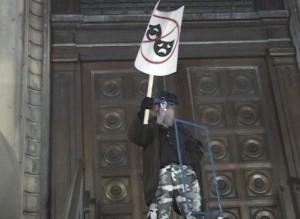 Masked "Riot cop" protests Drama Masks
"Gas mask cop" against Charter Section 2B
The "riot cop" soon announced the arrival of the Mayor of Montreal – M. Le Maire Gerald Tremblay. Ducking insults (and snowballs!), an actor with a large Tremblay mask appeared and delivered a mock "press conference" about the dangers of masks.
"Mayor Tremblay": masks are dangerous
The "Mayor" then claimed that "all masks are now illegal", and his security detail of masked "police officers" blew whistles and warned the masked protesters to unmask or face "arrest".
Following the carnivalesque performance, dozens of masked protesters entered City Hall where real police officers told them to unmask, then go sit in a room to watch the proceedings on a Television. While many of the protesters left at this point – what could be more disempowering than having to watch the end of our Charter right to Freedom of Expression in a separate room on a TV? – some of them did stay on. According to La Presse, five of the protesters were forcibly evicted by police. What happened inside the meeting is the subject of much speculation, although a copy of the bylaw has now been released, revealling that mask-wearing will soon be punishable with a $100 – $300 fine for the first offence.
Here is a video of what happened, courtesy of Guerilla Video Productions:
Unfortunately, most corporate media decided to focus on the police, the riots they faced in 2008, and the mayor's latest cabinet shuffle – instead of the theatre activists, their Masquerade Ball, and critical message that our civil liberties are under threat. Overall, quite a lot of the corporate media used images from past conflicts, such as burning police cars or the aftermath of riots, instead of employing images from the Masquerade Ball.
CTV News used old "riot damage" image
The Montreal Gazette, despite trumpeting the cause over the last week in Opinion columns, letters to the editor, and an editorial, only ran a tiny article on the protest ("Group unmasked", Tuesday, January 27, 2009, A3) that ignored the masquerade-theatre, and focused instead on the police's authority. Paraphrasing Chief Inspector Paul Chablo, The Gazette reported: "the regulation would be applied only at the kind of protests that have a history of turning violent, including spontaneous street gatherings following Canadiens playoff victories, an annual May Day protest and an annual protest against police brutality." No explanations were offered about who would decide which masks and demonstrations would be under scrutiny, nor whether officers could apply the bylaw indiscriminately.
The next meeting at City Hall is in one month, presumably on February 23rd. It is quite likely that the City will try and pass the bylaw, although there is bound to be strong opposition.
Organizers of the Bal Masqué, Le Gros Bon Sens, promise more dramatic resistance. Porte-parole Jules Merveille made a pointed critique against the proposed bylaw in Le Devoir:
«Cette mesure est anticonstitutionnelle étant donné que tout individu a la liberté fondamentale de se cacher dans un regroupement et de ne pas dévoiler son identité, sauf en cas d'arrestation bien sûr. Nous trouvons cette mesure absurde»
Le Gros Bon Sens have declared that the fight isn't over yet on their facebook page: "Le combat n'est pas terminé !"
On the more "official" political front, Projet Montreal leader Richard Bergeron announced his party's total disapproval of the bylaw in 24 Heures newspaper:
« les manifestants qui contreviennent à  la loi, qu'ils soient masqués ou non, devraient être arrêtés sur le champ. Mais compromettre la liberté d'expression en donnant le droit à  la police d'arrêter les gens uniquement sur la base de la façon dont ils sont habillés ne peut que détériorer les relations entre la police et le grand public ».
From a legal perspective, perhaps the best hope for protecting Charter rights, civil liberties lawyer Julius Grey suggested on CTV News: "The bylaw clearly would violate Freedom of Expression because you can't dissociate the freedom of expression from the way in which it is expressed." In the Toronto Star Grey elaborated:
"There is nothing more perilous than giving discretion to the police… To decide which protest is acceptable and which is not is as unseemly as police deciding which newspaper is acceptable, and which one is not…They are there to carry out the law, not to determine its content…They shouldn't be given discretion to violate freedom of expression."
If you want to protect your Constitutional right to Freedom of Expression, stay tuned to the OTL Blog and keep updated as this story unfolds. If you want to participate in the next round of theatre activism at the February City Hall Meeting, or help organize, please contact otl@optative.net